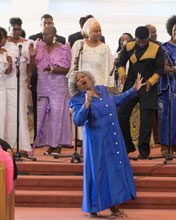 Beaufort's own Dr. Marlena Smalls and the Hallelujah Singers will help to kick off Black History Month with a special public performance of their musical storytelling and a celebration of the Lowcountry's Gullah culture on Thursday, January 31 at 4 pm at Beaufort's City Hall.
Preserving their West African cultural heritage, the Hallelujah Singers' high-energy performance will delight with uplifting voices, lyrical stories, and inspirational narrative. The event is free of charge and open to the public. City Hall is located at 1911 Boundary Street, Beaufort.
For more information: Marlena Smalls marlenasmalls@yahoo.comor 843-271-8157; Cele Seldoncele@seldonink.comor 910-274-8070.