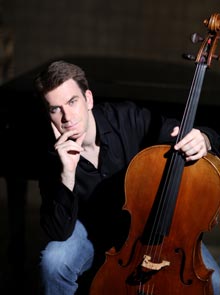 (And you don't have to go to Lincoln Center!)
"It would be hard—very hard—to find better chamber music playing than at the cellist Edward Arron's enterprising series."
This high praise appeared in the NEW YORKER, and although the reference was to Mr. Arron's chamber music series at the Metropolitan Museum of Art, it could just as easily be said of the USCB Festival Series that Mr. Arron will continue in the Lowcountry on December 11 at the USCB Center for the Arts.
The December concert is a great opportunity to discover just how accurate the NEW YORKER critic is and just how fortunate citizens of the Lowcountry are to have this music and these artists in our midst. Artistic Director Edward Arron is bringing prize-winning musicians to play music that both delights and moves even the least musical among us. It really is a program that makes chamber music what it was always intended to be, an intimate musical communication among artists and between artists and listeners. Clearly, being the listener is the easiest role to play.
Center stage will be John Novacek at the nine-foot Steinway concert grand. A prize-winning pia
nist and widely-acclaimed composer, he will dazzle us with his keyboard virtuosity as a soloist as he plays the delicate and delightful Mozart Rondo in a minor and then moves to two ragtime pieces of his own composition. He will be joined by three other artists for Shostakovich's passionate and romantic Opus 127 and four shorter pieces by Robert Schumann.
Mr. Novacek, known for his rare combination of technical mastery and musical sensitivity, regularly tours the Americas, Europe and Asia. As a soloist, he has presented over thirty concerti with dozens of the world's finest orchestras. He is often heard on NPR's Performance Today and has appeared as guest composer and guest pianist on A Prairie Home Companion with Garrison Keillor. He has recorded over 30 CD's, including solo and chamber music by most major composers from Bach to Bartok.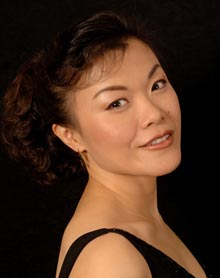 The only vocalist to appear this season, Hyunah Yu, is a soprano of rare range. She received the coveted Borletti-Buitoni Trust Award and has been a popular soloist and chamber recitalist since her very successful Carnegie Hall debut. She has world premiered many pieces specifically written for her, most recently the Symphony of Mediations by Aaron Jay Kernis with the Seattle Symphony under Gerard Schwarz. Ms. Yu has an active opera career, and she released a CD of Bach and Mozart arias in 2007.
Two-time Grammy nominated violinist and Beaufort favorite, Jesse Mills, will perform two Novacek's ragtime pieces with the composer. Such a pairing is the norm for Mills, who is well-known for his ability to move from classical to contemporary and from the synthesis of chamber music to improvisational jazz with ease and enthusiasm. In 2004 his professional concerto debut at the Ravinia Festival was a performance with the Festival orchestra and Salsa trombonist Jimmy Bosch and his Salsa band. Mills was violin soloist in their classical performance of Vivaldi's Four Seasons and then he and Bosch fronted a Salsa band arrangement of the Four Seasons where both were improvising soloists.
Anchoring the ensemble will be cellist, host and Artistic Director Edward Arron, who has led the Festival Series for the past three seasons with fine and varied programming and impassioned performances. A native of Cincinnati, Ohio, Mr. Arron made his New York recital debut in 2000 at the Metropolitan Museum of Art. Earlier that year, he performed Vivaldi's Concerto for Two Cellos with Yo-Yo Ma and the Orchestra of St. Luke's at the Opening Night Gala of the Caramoor International Festival. Since that time, Mr. Arron has appeared in recital, as a soloist with orchestra, and as a chamber musician throughout
the United States, Europe and Asia.
He has performed numerous times at Carnegie's Weill and Zankel Halls, Lincoln Center's Alice Tully and Avery Fisher Halls, New York's Town Hall, and the 92nd Street Y, and is a frequent performer at Bargemusic. Past summer festival appearances include Ravinia, Salzburg, Mostly Mozart, BRAVO! Colorado, Tanglewood, Bridgehampton, Spoleto USA, Santa Fe, Seattle Chamber Music, the Chamber Music Conference of the East, and Isaac Stern's Jerusalem Chamber Music Encounters. Mr. Arron has participated in the Silk Road Project and has toured and recorded as a member of MOSAIC, an ensemble dedicated to contemporary music.
The 2011-2012 season marks Mr. Arron's ninth season as the artistic coordinator of the Metropolitan Museum Artists in Concert, a chamber ensemble created in 2003 to celebrate the 50th anniversary of the Museum's prestigious Concerts and Lectures series.
http://www.uscb.edu/festivalseries.
For advance tickets, call Staci Breton at 843-208-8246, Monday – Friday 8:30 – 4:30. Tickets are also available at the door. Tickets start at $40. The concert begins at 5 on Sunday, December11 at the USCB Center for the Arts on Carteret Street.