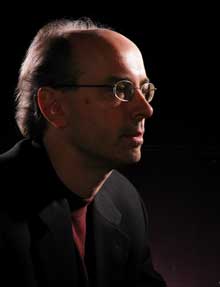 "It would be hard – very hard – to find better chamber music playing than at the cellist Edward Arron's enterprising series." This high praise appeared in the NEW YORKER, and although the reference was to Mr. Arron's chamber music series at the Metropolitan Museum of Art, it could just as easily be said of the USCB Festival Series that Mr. Arron will continue in the Lowcountry on December 9 at the USCB Center for the Arts.
The December concert is a great opportunity for you to discover just how accurate the NEW YORKER critic is and just how fortunate citizens of the Lowcountry are to have this music and these artists in our midst. Artistic Director Edward Arron is bringing prize-winning musicians to play music that both delights and moves even the least musical among us. It really is a program that can make chamber music what it was always intended to be, an intimate musical communication among artists and between artists and the audience.
Center stage will be Phillip Bush and the nine-foot Steinway concert grand. A prize-winning pianist, he will dazzle us with his keyboard virtuosity as a soloist as he plays William Bolcom's Graceful Ghost Rag. His final piece of the evening will be Chausson's delicate and delightful Piano Quartet in A Major, Opus 30.
Mr. Bush, known for his rare combination of technical mastery and musical sensitivity, regularly tours the Americas, Europe and Asia. As a soloist, he made his Carnegie Hall debut with the London Sinfonietta playing concerti by Stravinsky and Alexander Goehr. USCB welcomes him to Beaufort as a recently appointed Associate Professor in USC's School of Music.
Violinist Ar
naud Sussman, a 2009 Avery Fisher Career Grant winner, will join Mr. Bush in the Chausson piece. He will also open the concert with cellist Edward Arron and violist David Harding playing a Beethoven string trio for strings. A former student of Itzhak Perlman, Mr. Sussman was chosen as a Starling Fellow and spent two years as Mr. Perlman's teaching assistant early in his career.
David Harding is presently Professor of Viola and Chamber Music at Carnegie Mellon University. A graduate of the Julliard School of Music, he was the winner of the Sir John Barbirolli award at the Lionel Tertis International Viola Competition. He has had an extensive career as a soloist, chamber musician, and recording artist. He has also been an active teacher withseveral distinctive faculty appointments in the United States and Canada.
Anchoring the ensemble will be cellist, host and Artistic Director Edward Arron, who has led the Festival Series for the past four seasons with fine and varied programming and impassioned performances. A native of Cincinnati, Ohio
, Mr. Arron made his New York recital debut in 2000 at the Metropolitan Museum of Art. Earlier that year, he performed Vivaldi's Concerto for Two Cellos with Yo-Yo Ma and the Orchestra of St. Luke's at the Opening Night Gala of the Caramoor International Festival. Since that time, Mr. Arron has appeared in recital, as a soloist with orchestra, and as a chamber musician throughout the United States, Europe and Asia.
The 2012-2013 season marks Mr. Arron's tenth season as the artistic coordinator of the Metropolitan Museum Artists in Concert, a chamber ensemble created in 2003 to celebrate the 50th anniversary of the Museum's prestigious Concerts and Lectures series.
http://www.uscb.edu/festivalseries.
For advance tickets, call Staci Breton at 843-208-8246, Monday – Friday 8:30 – 4:30. Tickets are also available at the door. Tickets start at $40. The concert begins at 5 on Sunday, December 9 at the USCB Center for the Arts on Carteret Street.