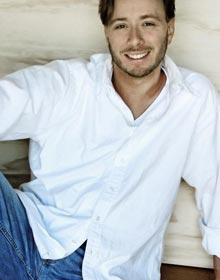 Piano Virtuoso Thomas Pandolfi makes a much-anticipated return to Fripp Island.
Fans remember his incredible Fripp performance in 2009. Scarcely had the encores and raucous standing ovations faded, when the audience was demanding that Fripp Island Friends of Music book him again as soon as possible. Well, his many fans are getting their wish!
For those who haven't heard this Julliard-trained pianist, Thomas Pandolfi is an exciting virtuoso. With each passing season, he is increasingly sought after by audiences worldwide; after every performance, music critics search for ever-grander superlatives to describe his passionate artistry and amazing technique. During the 2009-10 season, Thomas was guest soloist in the world premiere of British composer Simon Proctor's dazzling and unique "James Bond" Piano Concerto, performed in London.
Highlights of the 2010-11 season included the release of his 6th CD album, along with guest soloist appearances with The National Philharmonic of Moldova, The Oltenia Philharmonic (Craiova), The Gettysburg, PA, Chamber Orchestra, and The LaPorte, IN, Symphony. Also in 2011, Mr. Pandolfi performed in China during August, his second tour of that country.
Additionally, in the "Pops" genre, Mr. Pandolfi is considered a leading interpreter of George Gershwin's works. For example, the music critic of "The Observer" was positively effusive in his praise for his performance at the Fredonia, NY, Opera House: "As part of the Finley/Star Batrouny Great Performers Concert Series, Pandolfi commenced his all Gershwin recital with a solo version of the Concerto in F…as he threw himself into the first movement, it was easy to see why Pandolfi had been invited to perform, since his showmanship and emphasis on the dramatic aspects of the work were in full force."
"So much so, in fact, that as he brought the first movement to a thundering close, the audience forgot there were two more movements and reacted with a vigorous round of applause…the second movement continued relaxed and playful, while the third was sufficiently punchy and energetic."
Pandolfi's arrangements of six well known Gershwin melodies were expertly performed and very well received. After intermission, Pandolfi brought what was probably the best performance of the evening to the table with Earl Wild's Two Etudes on Popular Gershwin Songs, showcasing the performer's virtuosic talents…the dramatic performance of Rhapsody in Blue brought the audience to their feet in a rousing ovation…one of the most impressive things about Pandolfi's performance was how much sound he was able to bring forth out of the instrument."
The Asheville Citizen-Times echoed admiration for Mr. Pandolfi's abilities in terms one now hears from music aficionados worldwide, "Pandolfi is a standout among today's young pianists, demonstrating…grace, finesse and polish…his virtuosity and strength might have had some believing that Liszt himself had taken over the keyboard."
Equally popular as a recitalist, Pandolfi has appeared in concert halls nationwide. The Washington Post has described him as "an artist who is master of both the grand gesture and the sensual line." And his previous appearance in the Lowcountry proved it. The Fripp audience confirmed that they had witnessed a very special performance. Handsome, talented and personable, he created a compelling, intimate, almost supper club-like relationship with his audience as he played and chatted on the Fripp stage, enchanting young and old.
His return performance is one not to be missed, so mark your calendars for 5 pm on December 4th at the Fripp Community Centre. As always, your admission includes the sumptuous catered reception that follows each performance, so you can enjoy an opportunity to speak with a gifted musician and meet Fripp residents in a relaxing atmosphere enhanced by good food and drink.
Tickets are $20 at the door, $10 for students. Ticket price includes catered reception and free Fripp pass at the gate.