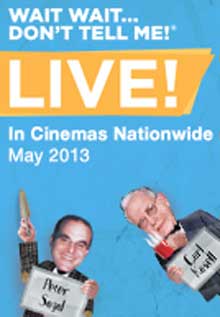 NPR's popular quiz show as you've never seen it before (because it's on the radio!)
A live in HD staging of the popular National Public Radio news quiz show, Wait Wait… Don't Tell Me! is coming to the USCB Center for the Arts when BY Experience beams the live-on-screen broadcast of the radio show to select movie theatres across the country on Thursday, May 2, at 8:00 pm.
You can test your knowledge against some of the best and brightest in the news and entertainment world when host Peter Segal and official judge and scorekeeper, Carl Kasell, will be joined by panelists Paula Poundstone, Tom Bodett and Mo Rocca in front of a live audience for a special two-hour show.
Paula Poundstone is one of the country's foremost topical humorists and stand-up comedians and has performed for the Emmy and Oscar Awards shows and the Tonight Show, among many others. Tom Bodett is an author of seven books and a commentator on "All Things Considered," and his voice can still be heard saying "We'll leave the light on for you" about 110 times every day. Mo Rocca is a contributor on CBS Sunday Morning with Charles Osgood, and has appeared on most all cable networks and the Broadway stage, and is also an author.
Fans of the hour-long weekly radio program on NPR know how wacky things can get on this oddly informative news quiz, so come join them for an evening of entertainment of a decidedly different kind!
Adults $22; Seniors $18; Students $10. For tickets call the Box Office at 843-521-4145 Monday through Friday, 10 am to 3 pm. Box Office opens one hour prior to show time for tickets at the door.
USCB Center for the Arts, 801 Carteret Street, Beaufort.
www.uscbcenterforthearts.com