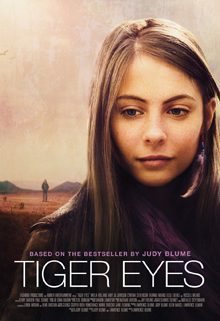 Monday is Movie Night this summer at the USCB Center for the Arts, your local headquarters for independent film.
Monday, July 8, catch the screening of "Tiger Eyes," directed by Lawrence Blume. A 17-year‐old girl sets out on a journey from heartbreak and confusion to transformation as she discovers love and life after tragedy.
"Tiger Eyes" marks the first major motion picture adaptation from the work of iconic author Judy Blume, renowned chronicler of the most private and charged emotions of teens, whose books have sold more than 82 million copies in 41 countries. Forced by her grieving mother to move from her home in Atlantic City to the strange "atom bomb" town of Los Alamos, New Mexico, Davey (Willa Holland) no longer knows who to be or how to fit in. Everything that once mattered – the friends, reputations, parties and expectations that fuel high school days – suddenly seems insignificant and Davey is certain no one has the first clue about the turmoil she is going through. But when she meets Wolf (Tatanka Means), a mysterious Native‐American climber exploring the surrounding canyons, she feels he is able to see right into her most wild and secret emotions. Their intense relationship brings Davey back from the edge as she finds the courage to embark on the first great adventure of her life.
The following Monday, July 15, is the screening of "This is Martin Bonner," directed by Chad
Hardigan. In this Sundance Award winning film, two men each search in their quiet solitude to begin a new life amidst an unspoken need for encouragement and support. Martin Bonnier has just moved to Reno from the East Coast, leaving behind his two adult children and a life he spent more that two decaled building. Having recently declared bankruptcy he's working a new job as a volunteer helping prisoners transition to freedom. It's Martin's first job in two years. Travis Holloway, a recently released prisoner in the program, sent back into the work world with nothing, also finds life difficult to adjust to. The lives and stories of Martin and Travis begin to converge as the find that they have much in common. Their unlikely friendship blossoms but is put to the test when Travis betrays Martins trust.
Monday Night Movies start at 7 pm and tickets are $7 for adults, $6 for seniors, and $5 for students. Call USCB Center for the Arts box office @ 843-521-4145 or purchase the day of the performance. The box office opens one hour prior to show time.