Island Rec's "Sunset Cinema" program promises food, film & outdoor fun!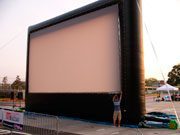 Those who enjoy watching films on the big screen, but are reluctant to partake in indoor activities on a beautiful summer evening, will be particularly thrilled to learn about an exciting new opportunity catering to movie buffs, outdoor enthusiasts and those seeking fun and different, family-friendly activities in the Lowcountry.
Beginning June 18, the Island Recreation Association, in partnership with Tabby Road Wealth Management Group and WTOC 11, will present "Sunset Cinema," its new outdoor movies series, at Hilton Head Island's Shelter Cove Community Park.
Every Thursday evening, through August 13, attendees will be able to enjoy family-friendly movies under the stars at the popular and picturesque venue, which is located behind the Mall at Shelter Cove and has, over the years, served as the site for a variety of well-attended festivals and events.

In order to make Sunset Cinema possible, the Island Recreation Association will erect a huge, high tech, inflatable screen, obtained through Special Events Network (moviesoutdoors.com), capable of projecting popular films in high definition. Similar programs have been successful in Georgia and Florida and Joe Cain, Special Events Director for the Island Recreation Association, believes the program will be a big hit in the Lowcountry, as well.
"These movies under the stars have been popular in other communities and we thought we should try it some time. Then Bruce Piefke, of the Special Events Network in Atlanta, came to us this past winter and proposed "Sunset Cinema." So we said lets go for it. And now WTOC has signed on as a sponsor so this is going to be big time."
In addition to showing a new film each week, which will be either G or PG rated, the event will also feature a kids' zone with various activities, such as inflatable bounce houses, slides and face painting, prior to showtime – a small fee will be charged for admittance into the zone.
Cain indicated that, to date, the following three films have been selected: "Paul Blart: Mall Cop," "Hotel for Dogs" and "Madagascar: Escape 2 Africa." Concessions, such as hot dogs, popcorn, shaved ice, Coca-Cola, wine and Budweiser, will be available for purchase.
Weather permitting, "Sunset Cinema" festivities will begin at 7 p.m. with the film rolling at about 9 p.m., or once the sun sets. Admission to the weekly event will be free for children 12 years old & younger and $5 for those who are 13 & older. Attendees are encouraged to bring chairs and blankets, but asked to please leave their pets at home.
Cain is confident that attendees will be pleased with the new program, particularly as it will be offered in long enjoyed venue.
"Shelter Cove Park has hosted so many great events. People like coming to the park and will now a chance to see a movie under the stars in the park – people are going to love it!"
For additional information regarding Sunset Cinema, and other fine rec center programs, please contact the Island Recreation Association: Call (843) 681-7273, or visit islandreccenter.org .