The Beaufort International Film Festival Celebrates Its 11th Season With Expanded Schedule
By Mark Shaffer

"That's part of your problem. You haven't seen enough movies. All of life's riddles are answered in the movies." – Steve Martin as 'Davis' in Grand Canyon
I first began writing for this publication nearly nine years ago – in February, 2008. We were freshly relocated from the Pacific Northwest where I wrote for a Seattle Times-owned website. Theater and film figured prominently and my colleagues and I spent most of a month each year covering the Seattle International Film Festival. SIFF was a festival in theory only. It lasted nearly three weeks and screened hundreds of films across dozens of specialized categories across what seemed like the entire Puget Sound. It was a bloated, overstuffed behemoth of an "event" that had no center or cohesion.
            When I arrived in Beaufort that February, I only found out that Beaufort had a film festival weeks after it was over. It was almost like a secret – a complete opposite of SIFF. In the years since Ron and Rebecca Tucker created the Beaufort Film Society and took control of BIFF the festival has grown nearly exponentially. And yet somehow it has managed to remain intimate and all under one roof. Once again this year's slate of films come from across the continent and the globe and from just up the road a piece. Old friends and ne
w faces will meet and mingle and connect at the USCB Center for the Arts. And there will be homecomings of sorts.
           Twenty-five years ago writer/director Julie Dash (right) shot her landmark film Daughters of the Dust not far from where the restored version will screen and where she will receive the inaugural Robert Smalls Merit & Achievement Award. The film is riding the crest of an art house renaissance fueled by its influence on pop diva Beyonce's controversial bestselling video album, "Lemonade." According to the Tuckers, Dash is the perfect representative for the 11th BIFF with a strong slate of films written and directed by women.
            Mark Shaffer: What were the takeaways from last year's festival that helped shape 2017?
            Ron Tucker: I think the biggest thing that we learned from last year is that we have a lot of attendees from outside of Beaufort County. We had 37 states and five countries represented. Of course, you know how I worry every year that no one is going to show up—
            MS: Oh yeah.
            Ron: And last year was another record breaking year. We had record setting screenings two days apart.
            Rebecca Tucker: One was in the middle of the afternoon and the other was 10:30 on a Saturday morning.
            MS: Good point.
            Ron: I'm still worried no one's going to show up this year (laughter). By our count over 12,000 people attended the 2016 festival. We had a great opening ceremony at a new venue (Tabby Place) that went really well. And we had 77 filmmakers attend – another record. Every year we seem to raise the bar a bit higher.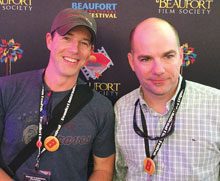 There's also another effect. The filmmakers who come to BIFF love it and they tell other filmmakers about it. This year we got a lot of entries with cover letters saying that so-and-so told us about this festival and we should submit to it.
            Rebecca: That's a big compliment for Beaufort, not just the festival.
            Ron: It's a compliment for Beaufort, but the consensus opinion across the board is that our festival is organized and well-planned –
            Rebecca: Completely thought out down to the last detail.
            Ron: Another thing that makes it special are the BIFF audience regulars – the people who come to the festival year after year whether they're coming from Connecticut or Wisconsin or Arizona –
            MS: You've got a following like the Grateful Dead. We need some trippy T-shirts (Laughter)
            Ron: I think it also helps that our other BIFF alumni are connected in other places, too. Like Josh Mikel (from 2014's "The Lengths"). We're starting to see him everywhere. He just posted a scene from "The Walking Dead." Anyway, a lot of these alums who've submitted in the past are hoping to get back because they're treated well, they make connections and they love the post screening pub crawls, as you mentioned in Lowcountry Weekly.
            MS: You've said this was a banner year for feature entries.
            Ron: We had 38 submitted and selected six. We've never had six feature films before.
            Rebecca: With the expanded schedule we had a little more time on Saturday to add another feature.
            MS: You've added a day and pushed the Awards Ceremony to Sunday. Looks like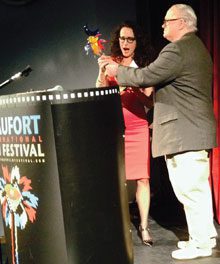 there's a bit more breathing room.
            Ron: One thing this allows us to do is build in some extra Q&A time if we get absolute confirmation the filmmaker's going to be here.
            Rebecca: We started on that really early.
            Ron: Sometimes it's hard to make them understand that it really doesn't matter when a film screens here. They're used to what attendance might be at 10 o'clock in the morning at other festivals.
            MS: Here you might get a capacity crowd.
            Rebecca: Here it doesn't matter. We averaged over 200 per screening last year.
            MS: You've got a dedicated bunch of locals who practically live in the theater and the people coming in from all over are making this a destination event. They're going to fill seats no matter the time.
            Ron: And we had the study done last year that determined BIFF is a destination event.
            MS: It seems like the student films gets stronger every year and from what I've seen some of them look amazing.
            Ron: We've got a number of young filmmakers coming from California – Dodge College and UCLA.
            MS: The UNC School for the Arts is well represented again.
            Ron: And in the Animation category we've got a student coming from the Rochester Institute of Technology and Animation. And for the first time ever we've got a home schooler – 15 years old from Myrtle Beach.
            Rebecca: Azure Allen. She's a prodigy. Her film's called One Day on Carver Street. It's amazing.
            Ron: This is also turning out to be the year of the woman. We've got more women filmmakers than ever before, so it's appropriate that Julie Dash is being honored. In fact, one of the student films – and this wasn't common knowledge to the jurors – won the student Academy Award this year. The film's Rocket and Brenna Malloy's the filmmaker from Dodge College and she's coming.
            Twice Upon a Time is a true story. Iliana Guibert wrote, directed and stars in it. Her husband survived the 1993 bombing of the World Trade Center but was killed on 9/11. She's coming to the festival. Almost Paris is the feature film debut from director Domenica Scorsese.
            MS: I think I may have heard of another director with that name.
            Rebecca: Martin Scorsese's daughter. And one of the producers is Michael Sorvino, Paul Sorvino's son.
            Ron: So Almost Paris is a female director. Ben and Ara is by a female director. It won the equivalent of the African Oscar. And Children of the Mountain won at Tribeca and [Director] Priscilla Anany is from the North Carolina School of the Arts. And we found out about this film from another BIFF and UNCSA alumnus.
            MS: Never underestimate the influence of the alumni.
     Rebecca: Absolutely!
            MS: And once again there's a horror film in the feature category, which I kind of love.       This one's from in state.
            Ron: Family Possessions from Columbia. We met the director, Tommy Faircloth, at the Underground Film Festival in Charleston – which he runs. We screened it and it's got some good scares. Then we saw it with an audience at the Greenville festival – a totally different experience. That's when we realized it's a comedy.
            Rebecca: People were screaming and laughing at the same time.
            Ron: Tommy's coming and bringing a big group with the film. And the other South Carolina feature is Fare by Thomas Torrey from Fort Mill. It's kind of a horror film. He found out about BIFF from another festival connection in Charlotte. And the final feature is Saturn Returns by Shawn Tolleson out of Vancouver, British Columbia. She is also a graduate of UNCSA and she will be here.  
            MS: Julie Dash is set to be honored and we'll screen the restored 25th anniversary edition of Daughters of the Dust which was shot out on St. Helena. The film's getting a lot of attention because it was apparently a major influence on Beyonce's "Lemonade" project. And suddenly it's playing in art houses across the country and she's being interviewed in Vogue and the New Yorker.
            Ron: The timing couldn't be better for this film and spotlighting Beaufort with the Reconstruction Trail project and the like. And to top it off we've been looking for a way to tie in Robert Smalls – one of our most important historic figures – to the festival, and one of the screenplay finalists is about him.
            MS: By way of a writer in Mississippi. Go figure. And Dash is being honored with the first Robert Smalls Merit and Achievement Award.
            Ron: Which will be presented by Michael Boulware Moore, his great, great grandson who's just been named the Executive Director of the International African American Museum in Charleston scheduled to open in 2018.
            MS: Sounds like symmetry.
ETCETERA:
The Beaufort International Film Festival opening gala is Wednesday, February 15th with screenings Thursday, Friday and Saturday with the Awards Ceremony Sunday, February 19th.