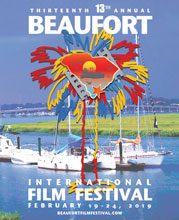 The Beaufort International Film Festival at 13
As this issue of Lowcountry Weekly hits the streets the Beaufort International Film Festival prepares to celebrate its 13thyear. Appropriately enough, BIFF's put on some serious growth as it enters its teens. This year festival runners Ron and Rebecca Tucker added an extra day to the event, significantly expanding the slate of films (and Ron's chronic fear that no one will show up). This year more than 80 filmmakers are scheduled to attend. The festival gets under way Tuesday the 19thwith a gala at Tabby Place in downtown Beaufort.
The next morning begins four days jam packed with screenings, panel discussions and workshops at the USCB Center for the Arts. It all wraps up with a cocktail reception and Awards Presentation Sunday, February 24th. 
Each year we at Lowcountry Weekly are proud not only to sponsor, but participate in South Carolina's largest film festival and Beaufort's premier international event. And every year we reach out to the honorees and a group of filmmakers to try and plug into the pulse of the festival. You can find our interview with Behind the Scenes honoree, Joyce Gilliard along with a festival overview in the previous issue available online at lcweekly.com. For the festival cover issue we chose to shine the spotlight on the Feature Film category (perhaps the strongest yet), and Joyce's iconic co-honoree, Paul Sorvino. Enjoy. We'll see you in the lobby.
Get the event schedule and tickets online at www.beaufortfilmfestival.com