Story and Photos by Mark Shaffer
When the camera rolls on the feature film Basement Bob this fall in Beaufort one lucky dog will indeed have its day. A recent Sunday in Port Royal lent credence to the old adage as nearly 200 dogs "auditioned" for a key part in the movie. 
According to director VW Scheich, "The neighbor's dog is mischievous and delights in thwarting Bob."
Scheich, photographer Susan Deloach and volunteers Mary Hannah Hart and Caitlin Whalen wrangled the K-9's inside the Port Royal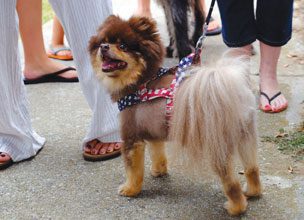 Veterinary Hospital. Outside producer Uyen Le and the Beaufort Film Society team of Ron and Rebecca Tucker controlled potential chaos.
"Beaufort Film Society is excited to be a part of the efforts of Basement Bob to bring movies back to the Beaufort area," says Ron Tucker.
"We were really pleased with the number of dogs and owners who came out," says Rebecca Tucker. She adds that the huge turnout is proof that "the community's ready for the movies to return to Beaufort."
Scheich (left) agrees. "There is definitely canine talent here in Beaufort. It will be difficult to narrow down the field from nearly 200 dogs to our Top 5, since there was so much personality from which to choose."
"The successful Doggie Casting Call has shown us that the people of Beaufort are excited for a movie to be shot here," says Le. "However, we still need to lock in our financing if we are to shoot this Fall. We're interested in speaking to potential investors to help make this movie a reality."
The top 5 dogs will be posted on the Basement Bob Facebook Page by the end of August.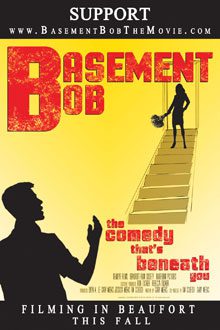 Until then, like any actor they'll be waiting for a bark back.
Etcetera:
Interested investors can email inquiries to info@rareformpictures.com
Check out a video of the casting call at www.LowcountryWeekly. Com
Special thanks: Port Royal Veterinary Hospital, Susan DeLoach Photography, Dave Anderson of Nevermore Books, and volunteers Mary Hannah Hart and Caitlin Whalen for their help with the event.