Friends of Beaufort Library's annual bookstravaganza will include new Meet the Authors program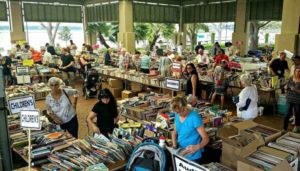 The Friends of the Beaufort Library (FOL) announced the return of their annual Fall Book Sale November 5-7. Because of the pandemic, the 2020 sale was cancelled, so this year's sale promises to be bigger and better than ever. The event kicks off to the public on Friday, November 5th 11 am-8 pm, after a 9-11 am special Members-only preview sale. Those wishing to join the FOL to attend the preview sale can do so at the gate for $25. The sale resumes on Saturday, 9 am-6 pm and concludes Sunday, 10 am-4 pm. All items on Sunday will be priced at 50% off.
"We have a wide range of book genres, something for everyone, including hundreds of rare and collectible items," said Deb Chevas, Book Sale Co-Chair. Serving with Deb as the other two event Co-Chairs are Amy Ferreira and Kathy Cooper.
"This is our biggest fundraiser of the year," said Friends' President Carter Hoyt. "This one weekend event allows us to provide tens of thousands of dollars to support the Beaufort, St. Helena, and Lobeco branches—so, please come see us and take home a big bag of books!"
The 2021 event has something new: The Meet the Authors Program. Throughout the 3-day sale, local authors will be on hand to meet the public, sign and sell their books, and answer questions. The final author schedule will be available soon but be assured there will be plenty of surprises in store!
In addition to the sale, the Friends' other annual marquee event is the Books Sandwiched In (BSI) lecture series held at USCB Center for the Arts and online. The BSI program kicks off January 10th, 2022 with Mayor Stephen Murray presenting "Strong Towns: A Bottom-Up Revolution to Rebuild American Prosperity," by Charles Marohn, Jr. To learn more about the Fall Book Sale, BSI, and how to become a Friends member, visit FriendsofBeaufortLibrary.com
About Friends of the Beaufort Library
The Friends of the Beaufort Library (Friends) is an all-volunteer, non-profit 501(c) (3) organization founded in 1979 to provide financial support to the Beaufort, Lobeco and St. Helena branches of the Beaufort County Library. Events include the Annual Fall Book Sale and the popular Books Sandwiched In series. For more information visit our website:  FriendsOfTheBeaufortLibrary.com Also, learn more about FOL's programs and activities on Facebook at "Friends of the Library—Beaufort, St. Helena, and Lobeco, SC" and Instagram at friends_of_beaufort_libraries