The Guild of Beaufort Galleries will open their doors for a special Art Walk on Saturday evening, March 28, 5 pm to 7:30 pm. The event is free and open to the public, and light refreshments will be served along the way.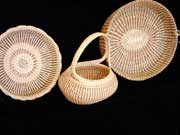 Maps will be available in each of the participating galleries displaying the purple and white Guild logo. Purple and white banners and balloons will also mark the member galleries.
Bay Street Gallery, 719 Bay Street, will feature "Our Disappearing Art Forms," a collection of sweetgrass baskets that have been commissioned from local basket makers to replicate historic forms that are no longer being made. This exhibit is a celebration that our area is working to preserve its heritage and local art forms.
Beaufort Art Association, 1001 Bay Street, features new works by over 70 member artists, including painting, photographs, collage, glass, jewelry, fiber and pottery. This ArtWalk will be the last day of the innovative exhibit, "Sensual Surroundings – an Exhibit of Lowcountry Textures," featuring the basketry of Donna Ireton.
Four Winds Gallery, 709 Bay Street will feature art of the Louisiana Bayou. Each of the three artists represented, Dr. Bob, Ivy Billiot, and Lorraine Gendron, is highly collected, and fiercely original, and each portrays a very personal and visual viewpoint of life in the Bayou.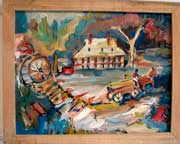 The Rhett Gallery at 901 Bay Street features the works of 4 generations of Rhett family artists, specializing in scenes of the Lowcountry and the Beaufort area. The Gallery also exhibits an extensive collection of antique prints, maps and charts.
The Charles Street Gallery, 914 Charles Street, will show new work by Lynn Brown and Sharon DeAlexandris. The two painters have traveled extensively together, and though inspired by the same sights, their intuitive expressions bring out different results. Charles Street Gallery is an established source for Lowcountry and international art, presented within a carefully renovated house surrounded by a lush garden in the middle of Beaufort's historic district.
Iron Fish, one of Beaufort's newest galleries, also located on Charles Street, features whimsical metal wall and garden art .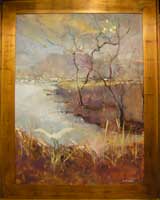 Art & Soul, in the old Bay Marketplace, will spotlight new paintings by Mary Pratt. Also featured are fine crafts, including glass, jewelry, raku pottery, and photographs.
The Craftseller, at 818 Bay Street, specializes in fine American crafts – including jewelry, pottery, glass, and woodwork.
LyBensons Gallery, at 211 Charles Street, specializes in Zimbabwe Shona Verdite sculptures, African and African-American art, as well as Gullah and Low Country folk art. The Gallery also includes a room dedicated to Captain Robert Smalls, a Beaufort hero of the Civil War.
Shipman Gallery, 904 Bay Street, features the work of award-winning watercolorist Barbara Shipman.
Indigo Gallery, 813 Bay Street, will present new works by Gloria Dalvini, Sandra Baggette, Janet Mosely, and Alison Crossman.
The March featured artist at the I. Pinckney Simons Gallery will be Joseph Byrne. Byrne's intimate paintings truly reflect his love of the island landscape and his concern for the ecology of the South Carolina Lowlands. Each amazing stroke of realism draws the viewer into the painting to experience the mood and atmosphere of his delicate detail. His luminist paintings are a true reflection of the evolutionary period in American art between 1848 and 1876.
The Gallery, at 802 Bay Street, is pleased to bring back Madeline Dukes for her solo show "Coast: The Laid Back Lowcountry". A Charleston-based artist, Madeline is fascinated by the movement between the subject and its environment, with her inspiration coming from the beauty of the Lowcountry islands.