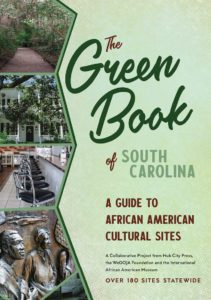 On Saturday, September 17, at 1:00 p.m., the nonprofit Pat Conroy Literary
Center and the Beaufort County Black Chamber of Commerce will host a presentation by photographer Joshua Parks on the newly published Green Book of South Carolina: A Guide to African American Historical Sites. Beginning with a welcome from Victoria Smalls, executive director of the Gullah Geechee Cultural Heritage Corridor, this free public event will be held at Sandies at the Beaufort County Black Chamber of Commerce (711 Bladen St.). No advance registration required. Books will be available for sale and signing.
Sandies will be open for dine-in or take-out lunches.
ABOUT THE GREEN BOOK OF SOUTH CAROLINA: South Carolina is a state of incredible African American history: from the lunch counter in Rock Hill where the Friendship Nine began their "Jail, No Bail" protests, to the site where the freedom song "We Shall Overcome" was first sung; our nation's very first school for the formerly enslaved, to a monument to the Middle Passage championed by Toni Morrison. Visitors and residents alike will find the Palmetto State rich in remarkable places that played a part in some of our nation's most significant moments. The Green Book of South Carolina, compiled by the WeGOJA Foundation (on behalf of the SC African American Heritage Commission), is a first-of-its-kind travel guide to the most tourist-friendly destinations offering visitors avenues to discover intriguing African American history as they travel the state.
Organized by region and illustrated with more than 80 color photographs by
Joshua Parks, this guidebook presents a curated selection of over 200 museums, monuments, historic markers, schools, churches, and other public lands. The Green Book of South Carolina is a collaborative release by Hub City Press, the WeGOJA Foundation and the International African American Museum. Sponsored by the City of Spartanburg and Denny's Corporation.
ABOUT JOSHUA PARKS: Joshua Parks is a photographer, documentarian, community organizer, and the Digital Programs and Community Engagement Specialist at the International African American Museum. Though Joshua was raised in Jacksonville, Florida, his family history is deeply rooted in the Lowcountry, where he is a direct descendant of Sol Legare Island, a historic Gullah-Geechee sea island community. He is a graduate of Howard University and is completing his Masters in History at the College of Charleston.
Learn more about the Pat Conroy Literary Center at www.patconroyliterarycenter.org and about the Beaufort County Black Chamber of Commerce at https://bcbcc.org.