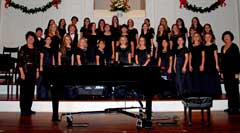 On the heels of their Carnegie Hall concert, the LowCountry Children's Chorus will perform here at home.
LowCountry Children's Chorus just returned from New York City, where they participated in the National Children's Choir Festival at Carnegie Hall.  Our young local singers joined 300 others, working under clinician, Henry Leck, to perfect choral literature from the baroque to the contemporary, featuring music from Central and South America and Savannah's own Johnny Mercer. While their, the kids had a chance to see some Broadway shows and tour prominent sites throughout the Big Apple!
The LCCC Carnegie Hall Homecoming Concert will take place at The Baptist Church of Beaufort on Sunday evening, May 2, at 7 pm.   The chorus will perform the literature prepared in New York City, along with some vocal and instrumental solo works. There is no admission coast, but donations are encouraged for this event.
LCCC will also be concertizing at Bluffton United Methodist Church on Sunday, May 16, at 4:00 PM.
LowCountry Children's Chorus is an auditioned community chorus for young  treble singers in the surrounding Beaufort area in grades 4 and upwards.  Auditions for Fall Semester 2010, will take place in mid-May.  Please contact Dr. Melanie Williams at (843)252-4104 or melaniewilliams@yahoo.com for more information.  Website:  www.bcob.org/lccc