We're getting our spook on up in here. Halloween is the official kick-off of the holiday season. It's time to celebrate! Invite some of your besties over on October 31st. Pass out goodies to the trick-o-treaters and indulge in these festive delights. (Photography by Paul Nurnberg)
Hot Broccoli Dip
Jalapeno-jack cheese gives this warm dip an added kick of heat.
1 cup chopped onion
1 cup chopped fresh mushrooms
1 (10-ounce) package frozen chopped broccoli, thawed and drained
1 (10.5-ounce) can cream of mushroom soup
1 (8-ounce) package jalapeno-jack cheese, shredded
Combine all ingredients. Spoon into a lightly greased shallow baking dish.  Bake uncovered, in a preheated 350 degree oven for 30 minutes or until cheese is melted and mixture is bubbly.  Serve with whole wheat crackers. Serves 6 to 8.
Spicy Cocktail Weenies
1 (4-ounce) jar Chinese hot mustard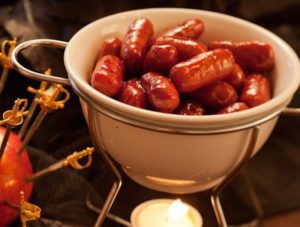 1 (12-ounce) jar red currant or grape jelly
1 (14-ounce) package cocktail franks, drained
Combine mustard and jelly in a medium saucepan over medium-high heat. Bring to a boil, stirring constantly. Add cocktail franks. Simmer uncovered for 30 to 45 minutes; stirring occasionally. Serve warm with cocktail picks. Serves 6 to 8.
This is one of my most requested catering recipes!
2 (15-ounce) cans pumpkin
1½ cups sugar
½ teaspoon pumpkin pie spice
1 (15.25-ounce) box yellow cake mix
Preheat oven to 325 degrees. Lightly grease a 9×13-inch glass baking dish. In a large bowl, combine pumpkin, sugar, eggs, evaporated milk and spices. Pour mixture into prepared baking dish. Sprinkle top evenly with dry cake mix. Drizzle melted butter evenly over cake mix. Sprinkle chopped pecans on top. Bake for 75 to 85 minutes or until a toothpick inserted in the center of dessert comes out clean. Cool on  wire rack for 30 minutes. Refrigerate before serving. Serves 12 to 15.
Chocolate-Peanut Butter Krispie Treats
A great treat for children and adults!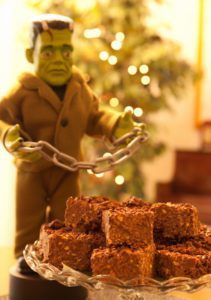 1 (12-ounce) package semi-sweet chocolate chips
1 cup crunchy peanut butter
4 cups toasted rice cereal (Rice Krispies)
Melt chocolate chips in microwave in a large bowl, stirring in 45-second intervals until completely melted. Stir in peanut butter; mix well. Stir in cereal.  Press into lightly greased 8×8-inch baking dish. Place on counter to cool thoroughly before cutting. Serves 9.
Halloween Martinis
This is a vodka-based martini with the infusion of tropical oranges — in both taste and color.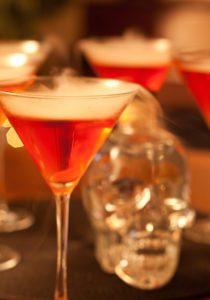 ¼ cup maraschino cherry juice
Chill all ingredients before mixing. Pour ingredients into a martini shaker. Shake the alcohol mixture and serve in martini glasses. Serves 10.
The writer owns Catering by Debbi Covington and is the author of three cookbooks, Celebrate Beaufort, Celebrate Everything! and Dining Under the Carolina Moon. For more great recipes and to view her cooking demonstrations, visit and subscribe to Debbi's YouTube channel. Debbi's website address is www.cateringbydebbicovington.com. She may be reached at 843-525-0350 or by email at dbc@cateringbydebbicovington.com.