Pat Conroy to partner with Open Land Trust for fabulous fundraiser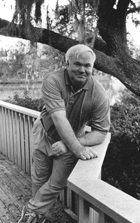 Every local resident knows about the beauty and splendor of living in this tidal community.  Visitors fall in love with the landscape, but a photograph is unable to portray its sheer beauty.  Bestselling author and local resident, Pat Conroy, captures what a picture cannot— the smell, the heat and the grace of this beautiful region.
The Beaufort County Open Land Trust is thrilled to be partnering with this literary great to help preserve the land that has inspired so many of his great works. On the evening of February 27th at the USCB auditorium, Mr. Conroy will speak on how the Lowcountry landscape has shaped his career and his passion for preserving the Lowcountry.
An original essay written by Pat Conroy about the Lowcountry will be given as a gift for all those that attend.  A cocktail reception will follow on the Historic Green in the Old Point Neighborhood.  All proceeds from this event will go directly towards BCOLT's purchase of "The Green," the last undeveloped one acre parcel in the Old Point Neighborhood of Beaufort, SC.
For event details or more information regarding the Beaufort County Open Land Trust, visit our website www.openlandtrust.com or call 843-521-2175.