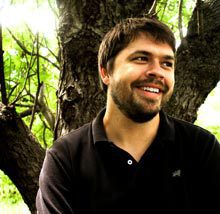 James E. McTeer II has won the SC First Novel Prize and will launch his book in Beaufort. It's all part of the family legacy.
Hub City Press and Beaufort County Friends of the Library will host a book launch reception Saturday, May 2, for Beaufort native James E. McTeer II and his book Minnow, winner of the 2015 South Carolina First Novel Prize.
            The event, from 6-8 p.m., will be held in the courtyard of the Arsenal Museum, 713 Craven Street. It is free and open to the public.
            Minnow is an otherworldly story of a small boy who leaves his dying father's bedside hunting a medicine for a mysterious illness. Sent by his mother to a local druggist in their seaside village, Minnow unexpectedly takes a dark and wondrous journey deep into the ancient Sea Islands, seeking the grave dust of a long-dead hoodoo man to buy him a cure.
            McTeer, 30, is the grandson of the legendary High Sheriff of the Lowcountry, J.E. McTeer. His debut novel was selected by novelist Ben Fountain of Houston as winner in the biennial literary contest, which is co-sponsored by the South Carolina Arts Commission and Hub City Press in Spartanburg.
            Fountain, winner of the National Book Critics Circle Award, says, "Minnow is a gorgeous fever-dream of a novel. It picked me up by the scruff of the neck and carried me along as powerfully as a novel by Pat Conroy or Toni Morrison."
            The book also received a starred review from Kirkus Reviews.
            James McTeer comes by his writing gift naturally.
            "Writing and storytelling run in the family blood," he says. "On my mother's side,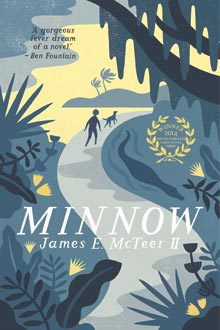 mygreat-grandmother Chlotilde Rowell Martin was a prolific South Carolina journalist and historian. She was the first female reporter to work for The State newspaper, and described writing as an incurable addiction. Along with reporting the local news, she wrote extensively on Gullah and plantation culture and published several books on the subjects."
            And then there was McTeer's paternal grandfather, the High Sheriff of the Lowcountry. "He's described as a 'legendary lawman, author, spellbinder and raconteur' on the plaque that marks his bridge in Beaufort. That line highlights his abilities as a storyteller, and the magic of his stories. He fought rumrunners during prohibition, and hunted Nazis along the coastline during World War II. He investigated black magic curses and solved murders and poisoning. He escorted the most dangerous of criminals and protected the most innocent of men from lynch mobs. His long years as sheriff and businessman gave him plenty to write about, and he put many of those stories down in four separate memoirs. He died before I was born, but I grew up learning all about his legendary life . . . exploring his world: peeking into old sheds filled with bizarre voodoo relics, holding ancient idols and talismans in my hands, hearing amazing tales told by everyone who knew him. I grew up loving those adventures and those stories, and I wanted to do my own part to capture the magic of the Lowcountry."
            When he's not writing, McTeer works as a media specialist at Polo Road Elementary School in Columbia. He describes the shock and thrill of winning the SC First Novel Prize. "I got a call at work and had to step away from a class of third graders. We were reading scary stories at the time—an activity they voted for as a reward at the end of the year. The phone call was surreal, standing outside of my school, as it slowly dawned on me that other people were going to have the chance to go on that fateful adventure with Minnow. I went back into the library and probably delivered the best three scary stories I've ever told to those kids. I was over the moon. As the notion of winning settled in on me, I felt a great sense of pride. I was raised to cherish the magic history of the Lowcountry, and to win the First Novel Prize with a local story is the highest honor I could ask for."
            Come celebrate with James McTeer on Saturday, May 2nd at the Arsenal from 6 – 8 pm. In case of rain, the event will be held in the Beaufort County Public Library. Beaufort Bookstore will handle book sales at the event. Minnow is available in hardback for $24.95.
For more information, contact Betsy Teter at Hub City Press: 864-577-9349, betsy@hubcity.org.