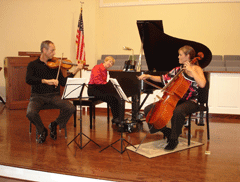 Chamber Music Hilton Head's new educational component is proving popular with Sunday afternoon audiences. Supported by a grant from Arts Council of Beaufort County, KidsPreConcert is intended for students middle school age and older. But the feature has also prompted inquiries from adult listeners. In response, CMHH tweaked the format and will now welcome any and all to these music appreciation sessions. Families attending KidsPreConcert with students are still free to the concert itself, while "unaccompanied" adults to these educational sessions should buy tickets, as usual.
The next Sunday concert will be presented Sunday afternoon, January 31, in Bluffton and the following evening, Monday February 1, on Hilton Head Island the following evening, February 1. It is a program of duets and trios, and in classical styles ranging from Baroque to early 20th century.
The program opens with "Sonata for Flute & Violin."  It is a bright, crisp piece in four movements by the Baroque composer, Georg Philip Telemann. Performing are CMHH violinist Asako Kremer, and guest flutist, Cynthia Hopkins. They are, respectively, members of the Charleston and South Carolina Symphony Orchestras.
Ms. Kremer is joined by CMHH pianist, Jean Shamo, for a performance of "Chaconne in G Minor." Chaconnes are variation forms in which the theme is a harmony rather than a melody. Composer Tomaso Vitali begins with four sonorous chords, which then flower into the 40 variations that follow. It is a staple of the modern violinist's concert repertoire.
KidsPreConcert will focus on the next piece in the program, by British composer, Malcolm Arnold. Arnold is best remembered today for his film scores, among the "Bridge of the River Kwai," but he also wrote chamber music and much of it for unusual groupings of instruments. "Divertimento for Flute, Oboe & Clarinet" features those instruments as equal partners in a sequence of six short, colorful sketches. Ms. Hopkins is joined by Hilton Head oboist Lauren Stuligross and clarinetist Russell Floyd.
"Piano Trio in C Minor," by Johannes Brahms, concludes the program. It is one of that composer's later works and anticipates the economy and innovation of the coming 20th century. Joining Ms. Shamo are CMHH regulars, violinist Tristan Lehnert and cellist, Angela Maleh.