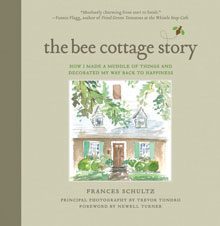 By Lanier Laney
I thoroughly enjoyed Frances Schultz's new book The Bee Cottage Story: How I Made A Muddle Of Things and Decorated My Way Back to Happiness. Carolina native Schultz's innate southern charm and wit come through in everything she does, whether as a columnist for House Beautiful, her popular blog at FrancesSchultz.com, or in this beguiling book, part memoir, part how-to, with decorating tips to help make your home as charming and as chic as her East Hampton cottage described in the book. This engaging, humorous book illuminates the healing power of doing what you love, finding your truth, and decorating your home.
            Frances has roots in the Lowcountry, having spent some of her teenage years in Beaufort, along with being the goddaughter of Caroline Trask. She will be signing copies of her new book at a special store appearance, Saturday Feb. 20th from noon to 2 pm at M Home & Garden, 813 Bay Street, Downtown Beaufort. For more information, call 843-524-7465.

Anticipating her visit to Beaufort, Frances was kind enough to give me this interview, exclusive to Lowcounty Weekly.
LW: You lived in Beaufort as a teen. What are your fondest memories of the area?
Frances: I was here in the '70s, as a newborn. (I wish!) Was actually in my terrible teens.
Picture rebellious adolescent with – shall we say – unique fashion sense in polyester prom dress with silkscreened tropical motif. Beaufort's beauty, on the other hand, was unassailable, with her grand old houses, magnificent trees with Spanish moss, and endless vistas of water and marsh. There is a kind of rhythmic magic in being by the water that I find both soothing and sustaining.
LW: What are the major 'takeaways' that putting together Bee Cottage taught you?
Frances: That it's okay to ask for help. That if you don't have the solution for a design problem, just wait; it will come. (That this is true in life as well.) That everything is going to cost more and take longer than everyone says. (Actually I knew that already.) That you can use high gloss paint wherever you dang well want to. That all greens go together. That living in a place that is about who you are and what you love, regardless of where it is or what it costs, is one of the most wonderful, loving, life-affirming things you can do.
LW: What's your advice to someone who has just bought a house?
Frances: If at all possible, live in the house for a while before you do anything major. Giving yourself and your family time to settle in and to see how you really live there is the best guide for design decisions.
LW:You have beautiful collections in Bee Cottage that add such charm. Any advice on assembling and displaying them?
Frances: Thank you, and yes! See Chapter 27! The most important idea is strength in numbers. Arrange or hang things in groups rather than scattering them about, as this diminishes their impact. Painting walls and the backs of bookshelves in deep, rich colors can be very effective for setting off objects and artwork. Notice wall colors in museum exhibits, and you'll see what I mean. Remember that lighting is important.
LW: The Hamptons are beautiful, but you must miss the South a bit I would think?
Frances: Oh gosh, the South is always with me in my heart. It's like I have a giant thought bubble around me that says SOUTHERNER. After 15 years of living in New York and now California, I haven't lost a trace of my accent and don't intend to. A friend gave me a pillow that says "In the South we do it this way," which I think is so funny. And true. Honey I do it "this way" in the North and West, too. So it isn't so much that I miss the South; but when I'm there, it is so great and I just revel in every minute of it, like being in my favorite old sweater or my most comfortable chair. Even though my hair gets frizzy.
LW: Your blending of personal memoir and decorating advice is unusual. Has anything surprised you about the way people have responded to it?
Frances: I never set out to write a memoir. I mean, I'm not exactly Jackie Kennedy. (She didn't write a memoir, either, come to think of it.) But my agent talked me into it, because of how people reacted to the House Beautiful column on which the book is based. So that the dern book sold at all surprised me completely, and it has gone to its sixth printing, which is crazy. But the best has been what people have said about how they were inspired and encouraged by the story, and that it made them laugh! We have all been through stuff. I guess hearing how other people handle it and keep their sense of humor is a good thing. Every time I get one of those emails, it makes my day and I kiss the earth.
Signed copies of The Bee Cottage Story will be available at M Home & Garden, 813 Bay Street Beaufort, SC 29902 843-524-7465 and The Beaufort Bookstore, 2127 Boundary Street, Beaufort SC