The nonprofit Pat Conroy Literary Center will host an evening with William Walsh, author of the debut novel Lakewood, on Monday, May 23, at 6:00 p.m. at the Conroy Center (601 Bladen St.). This event is free and open to the public. Books will be available for sale and signing. Seating is limited; please call to reserve your seat: 843-379-7025.
About Lakewood and William Walsh
"Secret rooms, buried grief, the turbulence of love. The appealing young man who narrates this engaging novel encounters them all on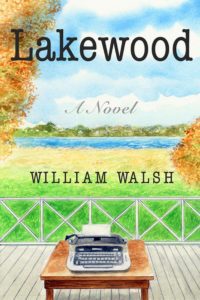 a momentous journey through a summer in which he must face the ghosts of the past and the challenges of the present on his way to a future all his own."—Pam Durban, author of All Set About with Fever Trees and Other Stories
"'I want what I say to be more than myself,' introspective college student Robert English commits to his typescript journal in a summer of self-discovery spent housesitting for the new owners of his childhood home, the site of his sister's death eleven years prior. William Walsh's Lakewood takes us deeply into Robert's wounded psyche as he navigates the hauntings of his past and the uncertainty of the future. His tribulations in love and betrayal, immersion into great novels, and discovery of long hidden secrets impart lessons for Robert and for Walsh's readers of our capacity to understand and forgive ourselves and one another. Walsh has long established himself as a multifaceted Swiss Army knife of a writer, and Lakewood further distinguishes him as a masterful storyteller to be read again and again."—Jonathan Haupt, co-editor of Our Prince of Scribes: Writers Remember Pat Conroy
William Walsh is the author of seven other books, including the award-winning collection of poems, Fly Fishing in Times Square. Born in Jamestown, NY and raised in Lakewood until moving south in 1972, he now resides in Atlanta with his family. Walsh is the director of the undergraduate and graduate creative writing programs at Reinhardt University, in Waleska, where he teaches literature and creative writing. He also serves as editor of the James Dickey Review. Lakewood is his first published novel.
Learn more about the Pat Conroy Literary Center at www.patconroyliterarycenter.org.