Her movie 'Must Love Dogs' made you laugh and so will she, in person.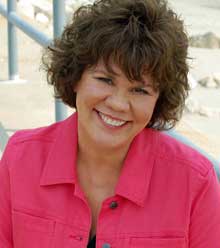 For a pre-Holiday perfect day, come to the USCB Lunch With Author Series on Wednesday, November 7th at Dataw Island's Carolina Room to hear New York Times bestselling author, Claire Cook, who wrote her first novel in her minivan when she was 45. At 50, she walked the red carpet at the Hollywood premiere based on her second novel, Must Love Dogs, starring Diane Lane and John Cusack.
Nine bestselling novels later, Cook comes to talk about her latest, Wallflower in Bloom, which is explosive in its treatment of family, a page-turner in story-telling and according to our friend Mary Kay Andrews is "tender, touching and terribly, terribly funny."  In this winning and witty new novel, Deirdre Griffin emerges from the shadow of her overbearing family and finds herself "Dancing With the Stars."
Deirdre has a great life; it's just not her own. She's the around-the-clock personal assistant to her charismatic, high-maintenance, New Age guru brother, Tag. As the family wallflower, her only worth seems to be as gatekeeper to Tag at his New England seaside compound. Then Deirdre's sometime boyfriend informs her that he is marrying another woman, who just happens to be having the baby he told Deirdre he never wanted. While drowning her sorrows in Tag's expensive vodka, Deirdre decides to use his massive online following to get herself voted on as a last-minute Dancing with the Stars replacement. It'll get her back in shape, mentally and physically. It might even get her a life of her own. Deirdre's fifteen minutes of fame have begun.
Irresistible and offbeat, Wallflower in Bloom is an original and deeply satisfying story of having the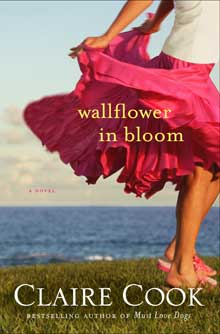 courage to take a leap into the spotlight, no matter where you land.When readers pointed out to Cook that reinvention of one's self seemed to run through her novels, she replied:
"I tend to be so focused on the characters I'm creating that I don't see the themes — my version of not seeing the forest for the trees, I guess. But I kept getting emails from women saying that the characters in my novels had not only inspired them, but given them some great ideas for their own lives.
"Now I realize it's the common thread that the heroines of my novels are all looking for in their own next chapters. In my newest novel, Wallflower in Bloom, Deirdre Griffin is the personal assistant to her famous brother, which means she basically has no life of her own. She's really good at social networking, and uses his massive online audience to get herself voted onto Dancing With the Stars as a last-minute replacement, the ultimate reinvention! It's travel and cultural coaching and cooking in Seven Year Switch, buyouts and lavender and clotheslines in The Wildwater Walking Club, makeup in Summer Blowout, sea glass jewelry in Life's a Beach, etc. There's nothing rarefied about the lives of the women in my novels. They're trying to find a creative way to make a living during these swiftly changing, crazy times – just like the rest of us! I think Wildwater also has a further message that even big changes happen one step at a time. (I'm sure a reader pointed that one out, too!)"
In the last year Cook has moved from an 1890 Victorian in Scituate, Massachusetts to suburban Atlanta and is writing and renovating again.  Her first book was written in a minivan and now her tenth book is being written "in a room without doors, with a house full of carpenters and electricians and plumbers coming in and out and telling me about the book they're going to write one day! I can't believe I finished not one, but three drafts, but I did and it reminded me once again that there's always a way if you want it enough. My tenth novel is called Time Flies, and will be published by Touchstone in June 2013."
Cook will give a talk, answer questions and sign books at the November 7th luncheon at the Carolina Room of Dataw Island Club. Books are available for purchase at the luncheon. Reservations are required for this noon luncheon. Please call 843-521-4147 or email kingsley@uscb.edu. The all-inclusive price is $42.