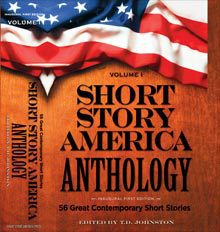 Short Story America, the Beaufort-based publisher of contemporary and classic short stories, has chosen Beaufort as the location for the first Short Story America Festival and Conference. Scheduled for September 21-23, the festival will feature readings and signings by top writers of short stories, seminars and discussions for aspiring and emerging authors of short fiction, and opportunities for readers to discuss short stories with authors. The weekend will also include the first-ever conference of the Short Story Writers Association.
"I'm thrilled to have quality authors of today's short stories coming to Beaufort, especially at such a beautiful time of year," said short-story author and SSA editor Tim Johnston, author of popular stories such as "Friday Afternoon," "The Errand," "The Guest" and "The Interruption of Thomas Darrow." "This is a great opportunity for local readers and writers to get together with leading authors of the great original American literary art form: the short story. The festival will also be a tremendous opportunity for college and high school students, their teachers, and all who want to learn more about short stories, as there will be first-rate discussions on both the craft and the analysis of short literature."
The festival will be held at the USCB Center For The Arts. "All of us involved with the arts at USCB are excited that our facility will be home to this great literary event," said Bonnie Hargrove, Executive Director of the USCB Center for the Arts. "This is the arts campus for the university, and the chance to host authors and readers is the perfect role for us in advancing the literary arts in the Lowcountry." The festival will also include an event at Short Story America's headquarters, and will involve downtown Beaufort as well. "Writers of short stories will fall in love with this community," said Johnston. "I hope that some will even choose to move here, because this town is perfect for the creative soul."
Short Story America is located in Beaufort Town Center, at 2121 Boundary Street, Suite 204. Short Story America's autographed first collection of 56 short stories by today's authors is available at Beaufort Bookstore, The Gallery, the Visitors Information Center at the Arsenal, McIntosh Books, and directly from Short Story America. Copies can be ordered online from Amazon and from Short Story America at www.shortstoryamerica.com.
If you wish to be involved with the Short Story America Festival as a volunteer, please contact Tim Johnston at 843-524-7800 or 843-597-3220, or write to him at tim@shortstoryamerica.com. .