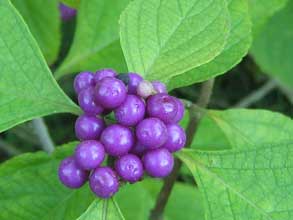 "Good bones," a favorite term of garden designers, really comes home during February, that forgotten month in the garden. It refers to the visual structure that binds your plants into a pleasing design. Those "bones" serve as a backdrop during the warmer months when there are riots of colorful flowers taking center stage. During the winter, however, many of those blooming plants die down and they can leave great yawning gaps in the landscape. How wide and attractive those gaps are is what sets the good gardens apart from the great ones.  
            Having a beautiful garden in winter means you do not notice those empty spots, the good bones stand on their own and do not need additional adornment.
          The first plant material that comes to mind for providing structure would be evergreens; shrubs and trees that retain their foliage throughout the year. An evergreen background can be a focal point on its own or serve to focus your attention on a specimen deciduous plant or tree during the winter. As the weather warms they provide a stunning backdrop to showcase flowering shrubs and trees.
           Because they are more suited to our climate, traditionally camellias, hollies, azaleas and boxwoods have been used successfully as green points of interest in the typical Southern garden but some needled shrubs do well.   A favorite of mine is the false cypress Chamaecyparis pisifera 'Gold Mop.' This one is an evergreen in name only. It has foliage that retains its color but the color is bright yellow when planted in a sunny site. It looks good on its own during the winter and makes a brilliant, some might even say gaudy, backdrop for other bright colors in summer. I had to transplant mine three times before it found its forever home but it is happy in a sunny spot with limited irrigation.    
            In addition to the traditional large evergreens I was reminded recently about evergreen perennials and their place in the garden. We don't always think of perennials making a statement throughout the seasons but we have a wide variety available.
          Evergreen ferns provide a graceful effect. The holly fern, Cyrtomium falcatum, is glossy and can be striking on its own or in a grouping. The autumn fern, Dryopteris erythrosora, it is sort of lacy and weaves its way gently through garden beds. Both of these multiply slowly, they are never thugs.   They prefer filtered sun and moist well drained soil. The East India Holly Fern, Arachniodes simplicior 'Variegata', prefers a moist, shady location and spreads by underground rhizomes but I have not found this one to be invasive at all.
            Depending on where you live in Beaufort County, you may be able to successfully grow Hellebores often called Lenten Roses. These gorgeous evergreen perennials do not care for my salty soil and I have killed (murdered is more like it) too many to admit. One variety that is especially suited for warmer climates is the Helleborus lividus. It can have pink or white flowers during the winter on deep blue green leaves. What's not to love? If you have good, rich soil give this one a try. It prefers an alkaline soil and light shade. If it has too much sun it will require too much water.
           

One plant family few think of as evergreens are the succulents. There are many hardy aloes and agaves that can be used as focal points. A sunny, well-drained spot is all they ask for; no irrigation necessary.
           Shrubs like Mahonia Fortunei or Soft Caress shine during the winter months but be sure to avoid the Leatherleaf Mahonia bealei as it is invasive in our climate.
            The opportunities to banish the beige in your garden during winter are endless. Alwaysshop for evergreen plants during winter; although a potted plant will be smaller it will give you some idea of what the foliage will look like during the cold months. Consider evergreens like they are a classic piece of clothing that you can always build upon.