Cassandra King offers wisdom and laughs in The Same Sweet Girls' Guide to Life.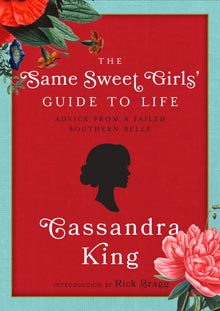 In her new book The Same Sweet Girls' Guide To Life: Advice from a Failed Southern Belle, best-selling author and Beaufort resident Cassandra King writes, "My mother spent the formative years of my life trying to shape me into a proper lady, a Southern belle. I cannot tell you how miserably she failed…"
  Originally delivered as a commencement address at King's alma mater, the University of Montevallo, this wonderful little book offers inspiration, practical advice and humor that will sustain new graduates – of high school, college and beyond – through life's ups and downs. With a terrific introduction by Pulitzer prize winning journalist – and fellow southerner – Rick Bragg, and a charming cover reminiscent of your favorite childhood poetry collection, this book has "keepsake" written all over it. Its timeless, universal wisdom makes it a perfect gift for graduation, confirmation, convocation… even a special birthday or engagement.
   We had some questions for Cassandra about her new book; she kept her answers short and "sweet."

Q) How did the Same Sweet Girls' Guide to Life come to be?
A) I thought it was about time everyone else became as wise and enlightened as I am, and my duty as a sweet southern girl to help them find the path.
Q) In his forward to your, award-winning journalist Rick Bragg claims that, despite your book's title, you don't "give one flip about sweet." Is that true?
A) Rick knows that's not true; why, when I met his mother for the first time (about publication of his memoir All Over But the Shoutin') I brought her a German chocolate cake I'd baked.
Q) How does your advice to graduates differ from the standard list of dos and don'ts one hears in commencement speeches?
A) I hope it differs in every way. I cannot remember one thing about any of the endless commencement speeches I've endured. I hoped that keeping my list short and sweet might help it stick.
Q) In the book, you've added a new piece of advice that wasn't in your original address – "Become a Lifelong Reader." Why do you think that's important?
A) As I say in the book, those who do not read have no advantage over those who cannot.
Q) What's on your summer reading list?
A) Some area writers who are friends of mine have new reads coming out – Mary Alice Monroe, Dorothea Benton Frank, Patti Callahan Henry – which I'm excited about.
Cassandra King will sign copies of The Same Sweet Girls' Guide to Life: Advice from a Failed Southern Belle on Sunday, May 11th from 1 – 3 pm at McIntosh Books in the Old Bay Marketplace, downtown Beaufort. She'll be joined by fellow Beaufort writer John Warley, who will be signing his new book, A Southern Girl.