Pulitzer Prize winner Geraldine Brooks is traveling coast to coast and north to south on her book tour in January, but the only place she's coming in South Carolina or Georgia, is the USCB Lunch With Author series.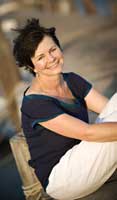 At noon on Wednesday, January 14, 2009 Brooks will give a talk, answer questions and sign books at the Sea Pines Conference Center, Hilton Head Island under the sponsorship of the University of South Carolina Beaufort. Reservations can be made by calling 521-4147 for the all-inclusive luncheon and presentation priced at $42.
People of the Book (now on its paperback tour) made its debut a year ago and immediately earned a prominent place on the NY Times bestseller list. A review from the Times stated, "Brooks has drawn her inspiration from the real Sarajevo Haggadah, a rare illuminated Hebrew manuscript. As she explains in the book's Afterword, little is known about this book, except that it has been saved from destruction on at least three occasions: twice by Muslims and once by a Roman Catholic priest. Building on these fragments of information, Brooks has created a fictional history that moves to Sarajevo in 1940, then back to late-19th-century Vienna, 15th-century Venice, Catalonia during the Spanish Inquisition and finally Seville in 1480, the new home of the artist responsible for the Haggadah's illuminations."

On the west coast, The San Francisco Chronicle said Geraldine Brooks has written an "intense, gripping new novel. People of the Book, like her Pulitzer Prize-winning previous novel, March, is a tour de force that delivers a reverberating lesson gleaned from history. It's a brilliant, innately suspenseful structure, and one that allows Brooks to show off her remarkable aptitude for assimilating research and conveying a wide range of settings. Also on full display is her keen sense of dramatic pacing."
Geraldine Brooks was for eleven years a correspondent for The Wall Street Journal, where her beats included some of the world's most troubled areas, including Bosnia, Somalia and the Middle East. Her fiction debut, Year of Wonders: A Novel of the Plague, was published in 10 countries and was a 2001 Notable Book of the Year for the New York Times, Washington Post and the Chicago Tribune. In 2006 Brooks won a Pulitzer Prize for March, which imagines the absent father from Louisa May Alcott's Little Women. She is also the author of two acclaimed works of nonfiction, Nine Parts of Desire: The Hidden World of Islamic Women, and Foreign Correspondence: A Penpal's Journey from Down Under to All Over.
Australian-born Geraldine Brooks grew up in the Western suburbs of Sydney, and attended Bethlehem College Ashfield and the University of Sydney. Brooks married author Tony Horwitz in Tourette-sur-loup, France, in 1984. They have two sons – Nathaniel and Bizuayehu – and three dogs. They divide their time between homes in Martha's Vineyard, Massachusetts, and Sydney, Australia.