Author Carl T. Smith returns to the Lowcountry and brings Sam Larkin with him.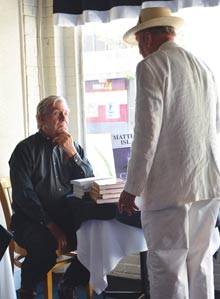 By Mark Shaffer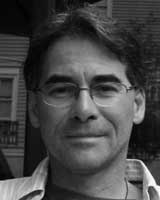 Gardner knew what he would order before he walked through the door. With no celebrity chef and being in Covington, South Carolina, he had been surprised on his first visit to the establishment to find the best Steak au Poivre he had ever tasted. In all the times he had eaten at Emily's since, it was the only entree he had ever ordered, and he was looking forward to it.
– Excerpted from "Matthew's Island" by Carl T. Smith
   Carl T. Smith sits at a window seat in the bar at Emily's in downtown Beaufort signing books as fast as he can. A queue of fans – some of them old friends – pull books from a table piled high and line up to have them signed.
It's the perfect venue for the bestselling author of the Sam Larkin novels, most of which are set in Covington, S.C., the fictional version of Beaufort. Characters in his books frequent this locals' favorite. Some may even be based on the real life characters that frequent the place, maybe even some of the fans clutching books for the author to sign.
   Smith's just released the fourth Larkin adventure, Matthew's Island, as an e-book prior to publication. He describes his enigmatic alter ego as a guy "who tries to avoid other people's problems, but they just seem to fall on him." Read the first few pages of Lowcountry Boil, Larkin's 2003 debut and you'll probably be hooked. Like its culinary namesake, all the ingredients combine for an unforgettable, sometimes messy, and absolutely unique story of betrayal and intrigue heady with local flavor.
   Smith spent decades in the northeast immersed at various times in the music business, theatre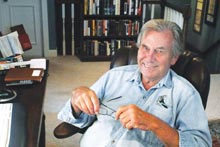 and education. "But," he says, "I never really adapted to the speed of things up there." We're talking by phone a few days later from Smith's home in the upstate. He's already missing Beaufort. He says he regrets ever leaving Fripp Island and ponders a more permanent return to the Lowcountry.
   It was a move south that slowed the pace enough to allow Smith to finish his breakthrough novel, "Nothin' Left to Lose" in 1999. The novel's publication completed a circle begun during his college days in Richmond where he first began writing and made a friend whose dogged insistence finally paid off some 30 years later . . .
   Carl T. Smith: The Fan District, where the school's located, was primarily old houses and the atmosphere was much like Paris in the 1920's, I imagine, or the Village in the '30's. It was totally creative. My best friend in college, Tom Robbins (Even Cowgirls Get the Blues), was the one that got me started writing.
   Mark Shaffer: Future great American novelist. Not a bad guy to have in your corner.    
   CTS: I started a novel while I was in Richmond right after college. I put it aside for 25 years and Robbins kept telling me I had to get back to writing. Then my personal life took a big hit and I picked up the old novel and tried to prime the pump. But when it got to 1000 pages and nothing had happened (laughs) I decided to throw it away. I came south and wrote "Nothin' Left to Lose." And then I moved to Beaufort. 
   Terry Kay (author of To Dance with the White Dog) once told me, "Don't worry about writing the book in you, write the stories around you." I found that to be very true. You only have to keep your eyes and ears open. That's how "Lowcountry Boil" came about. That book was a gift.
   MS: And the beginning of a big Lowcountry connection. Where did Sam Larkin come from?
   CTS: I don't know. People have asked, "How much of you is Sam Larkin?" I always say, "All but the brave parts." (Laughter)
   I'm not the heroic type, but the little peccadilloes – the cooking and things like that come from me. When I first set out to do it I didn't want to do a character like every other protagonist of that type and I didn't really want it to be a thriller of any kind.
 
MS: Lowcountry Boil was loosely based on events surrounding Operation Jackpot (a federal drug task force based in South Carolina from 1983 to 1986). This still resonates around Beaufort.
   CTS: I wasn't interested in the drug conspiracy. What interested me was that so many of the town fathers were involved in it. The idea came from a walk I took on Fripp. I mentioned a rock & roll song everyone in the world knows to one of my neighbors and he said, "I don't know that song." I said, "You've got to know that song." And he said, "I wasn't around. I was in prison." (Laughs) That opened my ears 'cause Fripp's not that kind of community. Then I started listening around town and it was this iconic thing that people had diverse opinions about. I did a lot of research and talked to a lot of people who were willing to talk about it.
   As for Sam, I just wanted him to be a guy who was inadvertently drawn into something. I had to give him a background and I wanted that to kind of define him as a man. I like enigmatic characters and that was my primary goal in creating him.
   MS: Like your friend Pat Conroy, you treat the Lowcountry as a character in the novels.
   CTS: Absolutely. In fact, the first time I began to think in terms of that was reading [James Lee] Burke's books because the Cajun country he writes about is a character within itself. The one thing the film version of "Midnight in the Garden of Good and Evil" didn't capture was its primary character and that's Savannah.
   MS: You're right. They just didn't get it.
   CTS: In fact Les Standiford, who's written a lot of books (the John Deal novels), said to me once, "You made me smell and taste the Lowcountry." I lived on that for about a month (laughs). The Lowcountry's romantic. There's no way around it. It's a combination of romance and realism.
   MS: And a little bit of danger and a lot of ghosts floating out there in the Spanish moss and marsh grass.
   CTS: (laughs) Oh yeah.
   MS: Is it sometimes a struggle to keep the stories fresh?
   CTS: Yes, it is. I had a real problem trying to follow up "Lowcountry Boil." I felt that readers would be a little bit frustrated by the fact that [Larkin] had been sent to Angola prison for years and had no animosity or feelings of retribution. So that's why I wrote "Louisiana Burn." I thought it would be important at that time to put Sam in another locale. Since he's from Louisiana I thought that would be a good idea. At the same time I'd read about this congressman from Pennsylvania who was living with a lobbyist. (Laughter)
   MS: Now, what could be improper about that?
   CTS: (Laughs) Well, I thought, Washington politics aren't that different from Louisiana politics. And that sort of sent me on the path and allowed me to bring out the Cajun influence [in Larkin's past] which is also a character in its own right.
   When I finished that one I thought, well, that's it. I'd originally thought about a trilogy and I just didn't know where the third book was going to come from. I knew that if I did a third book it had to have something that was really different. And a friend of mine who I'd worked with back in New Jersey, her son killed her and burned the house down. I thought I could incorporate that. And actually the character of Loyal DeLoache in [the new Sam Larkin novel] Matthew's Island was originally part of Carolina Fire. But I thought he was such a good character I couldn't devote enough to him in that book. So I saved him for the fourth one. And that's where "Matthew's Island" came from. I simply loved that character.
   I got that persona from a South Carolina family, the Boskets. There's a book about them, [Fox Butterfield's] All God's Children. A Grandfather was executed, the father was killed in a shootout and the son is considered today the most dangerous prisoner in the United States. And they all had IQ's above 165.
   MS: Alzheimer's Family Services of Beaufort supported your recent book signing at Emily's, and you've made a unique donation for their annual fundraiser.
   CTS: I gave them a book for the silent auction but I also offered to give them a character in the book I'm working on now. I did that once before for [and education fundraiser] in Hilton head and it raised a lot of money. So I told Arlene Hull (at AFSB) I'd be happy to do it again. People like to have their names in these things.
   MS: They do, indeed. Sam Larkin's sitting this one out but the book you're currently working on is also set in the Lowcountry.
   CTS: Yes it is. I can't say much about it because it's based – loosely, loosely based – [on real people and events.]
   MS: We'll just call it a sensational unsolved mystery.
   CTS: (Laughs) You know, Conroy always says I write "faction" (laughs) because my books are based on actual events. And he's been a tremendous help to me. I was ready to pack it in and he kept me going. He said, "Carl, there are better novelists than you or me or Fitzgerald or Faulkner with books sitting in drawers because somebody got tired of being told no." I was used to rejection from all my years in music and theater. But "Lowcountry Boil" was rejected 46 times. And it's sold over 60,000 copies in three different formats.
    This is going to be a bigger book. I lived [in the area] at the time of these events and knew a lot of the people involved.
    MS: Just too juicy a story to pass up?
CTS: Absolutely. There are just too many fascinating characters involved. It all goes back to what Terry Kay said: just write the stories around you.
Get more online at www.carltsmith.com