Beaufort Art Association is excited to announce a new exhibit of works by acclaimed watermedia artist Polly Swenson, running May 12 through June 21. Polly has been a member of BAA for many years and has exhibited widely throughout the southeast.
This new exhibit will have a local flavor and carry the title "Highlights of the Lowcountry." Her art is representational, giving each subject a slightly romanticized look, whether it's the vanishing marsh landscape, a shrimp boat sailing home or birds in their natural habitat. Polly has gained a national following for her finely detailed wildlife paintings.
Polly Masters Swenson was born in Quantico, Virginia into a Marine family. Gifted with a talent for drawing, Polly moved to New York and received her degree in Fashion Merchandising . Soon she met and married a Marine Lieutenant serving in her father's command in Hawaii. On their anniversary in 1968, her husband presented her with every conceivable piece of equipment an oil painter might need to set up a studio . . . then he left for Vietnam. Polly found an excellent Paris trained teacher and began to study painting in earnest. She sold her first painting a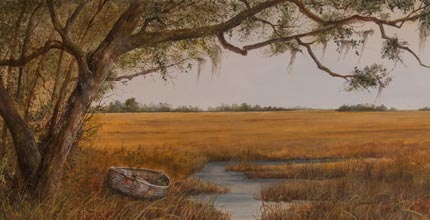 year later and has been selling commercially ever since.
For years Polly was affiliated with the Undertaking Gallery in Occoquan, Virginia until she and her husband, Carter, moved to Beaufort in 1989. Since then she has been represented by Indigo Gallery in Beaufort. Her work can be found in private collections from across the United States as well as corporate officers in Chicago and Washington DC. Polly has won many prizes and awards but her most treasured are the People's Choice awards with which she has been honored over a dozen times.
Both original art, and signed and numbered prints will be available for purchase during her exhibit. An opening reception will be held on Friday evening May 16 from 5:30 – 7:30 pm. The public is cordially invited to attend for light refreshments and to meet the artist.
For more information, please check www.BeaufortArtAssociation.com