Internationally acclaimed photographer and author Jeanne Mouttoussamy-Ashe will talk and make a power point presentation featuring the 25th anniversary reprint of her famous book Daufuskie Island at the Holiday Inn Beaufort on Thursday, November 19.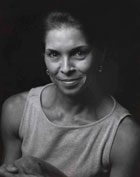 The new book features fifty previously unpublished photographs from the original contact sheets of the 1982 book, and upon publication received the 2008 Essence Literary Award for Photography.
The University of South Carolina Beaufort Continuing Education sponsors the Lunch With Author series. Lunch is served at noon and reservations are necessary. The all-inclusive price is $42 and reservations may be made with Jo Ann Kingsley, 843-521-4147 or kingsley@uscb.edu.
Jeanne Moutoussamy-Ashe was born on the Southside of Chicago and began her training in the fine arts at the age of eight, studying at the Art Institute of Chicago and later receiving her bachelor of fine arts for photography from the Cooper Union in New York. She worked as a graphic artist and photojournalist for WNBC-TV. Her work has appeared in publications such as Life, Smithsonian, Sports Illustrated, Ebony, Essence, People and The New York Times and has been shown in solo and group exhibitions around the world at venues including the National Gallery of Art in Washington, D.C., Galerie Herve Odermat in Paris, the Excelsior in Florence, and the Leica Gallery in New York.
In May, 2009 Jeanne was inducted in the Penn Center 1862 Circle for her efforts to document and preserve the cultural heritage of the last inhabitants of Daufuskie Island to reside on the Island before the onset of tourist developments. When Jeanne first came to Daufuskie in 1977, only about eighty African Americans maintained permanent residences on the island, the last descendents of a once-thriving black society that developed after freed slaves had bought the land from their former masters. Jeanne's remarkable photographs illustrate the daily lives of this notoriously shy community in vivid images of family gatherings, crabbing and fishing, children at play, spiritual life, and the toils of everyday life in the relative isolation of Daufuskie.
Outside of the field of photography, Jeanne Moutoussamy-Ashe has been continually involved in philanthropic pursuits involving various social, health and community issues. She is the chairman of the Arthur Ashe Learning Center, the director of the Arthur Ashe Endowment for the Defeat of AIDS, a member of the President's Council and a former trustee of her alma mater The Cooper Union and a one-time Alternate Representative of the U.S. to the 50th United Nations General Assembly, a presidential appointment.