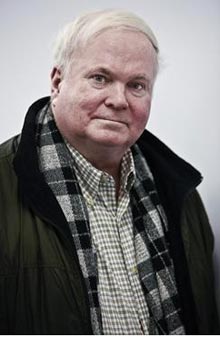 The historic Penn Center, Inc. will hold the 8th annual fundraiser 1862 Circle Gala and Awards Banquet on Saturday, May 7 at The Holiday Inn in Beaufort.  The celebration marks 149 years of the historic Penn Center's service to the community in education, preservation and the arts.  This year's Gala theme is "Preserving the History – Fulfilling the Promise." The reception and silent auction begin at 6:00 p.m., with dinner and the awards program following at 7:00 p.m.   .
The 2011 Gala will honor two individuals and one organization for diverse contributions they have made in support of Penn Center:  Pat Conroy, Roland Gardner, and Sankofa Circle, Inc. of New York.
Pat Conroy
was born in Atlanta, Georgia to a young career military officer and a Southern beauty from Alabama whom he credits for his love of language.  He attended the Citadel Military Academy in Charleston, South Carolina.  After graduation, Conroy taught English in Beaufort.  He is the most famous contemporary Southern author of numerous novels, memoirs and films, including
The Water Is Wide (Conrack) The Great Santini, The Prince of Tides, The Boo, The Lords of Discipline, Beach Music, South of Broad, My Losing Season and My Reading Life
.  Conroy currently lives on Fripp Island.
Roland Gardner has served for thirty years as the very effective Chief Executive Officer of Beaufort-Jasper-Hampton Comprehensive Health Services, Inc., which provides quality accessible comprehensive health services to more than nineteen thousand patients in three counties.  The excellence of his leadership has been recognized nationally and locally.  Mr. Gardner also has a distinguished history of volunteerism with national and local service organizations, and as a civil rights activist.  He is a native of St. Helena Island and the son of Penn School alumni.  A committed supporter of Penn Center and a former chairman of the Board of Trustees, Mr. Gardner currently is working to bring a health care facility to the Penn Center area.
Sankofa Circle, Inc. was formed in 1993 at Bank Street College in New York City by people who shared an interest in supporting the mission of Penn Center.  The Sankofa bird takes the best from our past to build for the future.  For the past seventeen years, Sankofa Circle has sponsored various fundraising activities in New York to bring public awareness to Penn Center.  The organization's contributions have ranged from purchasing needed equipment for the York W. Bailey Museum to selling Jonathan Green's book Gullah Images – all profits going to Penn Center.
The 1862 Circle recognizes local and national leaders who embody the spirit of Penn Center and who serve as advocates for the enduring history and culture of the Sea Islands.
Established in 2003, the 1862 Circle has inducted previous notables, such as Congressman James Clyburn, Congressman John Lewis, Courtney Siceloff, Emory Campbell, Honorable Ernest F. Hollings, James Denmark, Jeanne Moutoussamy-Ashe, Jonathan Green, Juan Williams,  Phillip Simmons,  The Penn Club, Inc., Thomas Barnwell, Vernon Jordan, Phylicia Rashad, and Mary Inabinett-Mack.
The 1862 Circle Gala will include fine dining, a silent auction, live entertainment, and a cash bar.  Formal attire is preferred.  Reservations are $100 per person or $1200 per table.  Event sponsorships are available from $2,500 to $25,000.   For reservations and corporate sponsorship packets, contact the Penn Center at (843) 838-2432 or email info@penncenter.com.  Advance reservations are required by April l8th.  Payment by check, money order or credit card may be mailed to P.O. Box 126, St. Helena Island, SC 29920. All proceeds will benefit Penn Center, Inc., a 501(c)3 non-profit organization.
About Penn Center
Penn Center is one of the nation's most historically significant, African-American, educational and cultural institutions.  Located on St. Helena Island in Beaufort County South Carolina, it is funded through grants and donations only.
Founded in 1862 by Northern abolitionists and missionaries as a school for emancipated Africans, Penn School operated as a "model" school until 1948 when its Trustees turned over the organization's educational functions to Beaufort County and changed its name to Penn Community Services.  Later, the Penn Center served as a retreat where much of the strategy of the Civil Rights movement of the 1950s and 1960s was outlined by major leaders, such as Dr. Martin Luther King, Jr., Rev. Jesse Jackson and Andrew Young.
Since then, Penn Center has remained a major educational resource for African American Sea Islanders and a national resource for historical preservation, welcoming over 30,000 visitors annually.  It provides the only year-round, community-based educational programs for pre-school to high school children in the county.  Its resources also support economic, community and rural development.  Penn Center provides the only tangible link with Gullah culture and the first generation of slaves freed 149 years ago, through its physical facilities, austere collections and public programs.