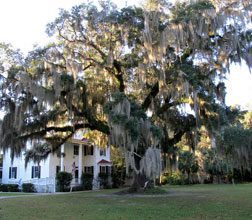 YBR Publishing will present 'Authors Under the Live Oaks' at Historic Frampton Plantation, 1 Lowcountry Lane in Yemassee S.C. (I-95 Exit 33) on Saturday, September 16, from 9:30 am to 4:30 pm.
Nearly 20 authors/artisans from across the Lowcountry and beyond will be on hand for a book signing under the centuries-old live oaks on the plantation, which is also the home for the South Carolina Lowcountry Tourism Commission. Multiple genres of books will be available for all readers' tastes.
The 'Authors Under the Live Oaks' event series, founded by Beaufort/Ridgeland authors Jack Gannon and Cyndi Williams-Barnier, provides an opportunity to all authors, whether they are selling their first book or their latest, to meet with the public in a beautiful location and gain new readers for their books and make friends with fellow writers. The event is free to all vendors, and free to the community.

Gannon and Williams-Barnier will be signing their own books at the September "Authors"€ event, along with other notable local and visiting names as: Jonathan Haupt of the Pat Conroy Literary Center, Bernard Snyder, Jan Hull, Rita Shuler, Bing Chambers, Carl E. Linke, Ed Morgret, Lisa Lowther, G Hugh Bodell, Shondtel Jackson, Chuck Herson, Wanda E. Jerideau, R.W. VanSice, Cookie Miller VanSice, John Clark, Ralph E. Jarrells, and more.

Lowcountry artisans are invited and welcome to attend as well. Authors, artisans, and other vendors should contact YBR Publishing at contact@ybr.com if they are interested in attending (it's free!).
Windy City of Savannah will provide a food truck selling southside Chicago-style lunches for visitors.
"Authors Under the Live Oaks"€ is hosted by the South Carolina Lowcountry Tourism Commission at Frampton Plantation. It is sponsored by Bath Fitter of Savannah, and promoted by the Pat Conroy Literary Center in Beaufort, the Book Warehouse of Hilton Head, and the Morris Center for Lowcountry Heritage.
In case of inclement weather, the event will be canceled and not rescheduled. The next "Authors Under the Live Oaks"€ event is scheduled for Saturday, December 9, at Frampton Plantation, and is partnered with Frampton'€™s annual "Toys for Tots"€ event (at which Santa Claus will make a brief appearance!) Please follow their Facebook page at https://www.facebook.com/authorsundertheliveoaks.