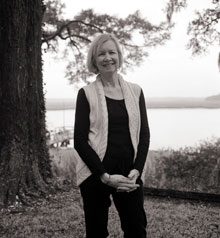 (Note: The following interview was excerpted with permission from the Pat Conroy Literary Center's blog, Porch Talk. Portions of this interview previously appeared in the inaugural issue of Shrimp, Collards, and Grits magazine.)
Cassandra King is the author of five novels, most recently
Moonrise,
and the nonfiction book
The Same Sweet Girls Guide to Life: Advice from a Failed Southern Belle.
This same sweet girl and failed belle from L.A. (Lower Alabama, y'all) famously met her late husband Pat Conroy when he wrote a blurb for her first novel
.
That circle has now completed itself in her beautiful introduction to Pat's posthumously published collection of nonfiction A Lowcountry Heart. Pat Conroy's brother Tim has said that, since Pat's death on March 4, 2016, we are never closer to his Lowcountry heart than when in Cassandra's presence and in this conversation with Conroy Center executive director
Jonathan Haupt,
Cassandra shows us the truth in that statement.

Jonathan Haupt: You've written about how you first met Pat, writer to writer, and how your deep friendship blossomed into a great love. When did you first come to the Lowcountry with Pat, and what were your first impressions of your new home?
Cassandra King: I first came to the Lowcountry with Pat sometime in the late spring or early summer of 1997, so it's coming up on twenty years ago. My first impression was surreal. I felt exactly as though I were in the middle of a Pat Conroy novel. It was also like something out of The Lion, the Witch, and the Wardrobe, as though a magical door had opened to a real-life Narnia and I had disappeared into this amazing new dreamscape of a world . . . To have made a home with Pat here in Beaufort is an experience I wouldn't trade for anything. 


JH: You've avoided writing about the Lowcountry in your novels, but now that you're writing a memoir of your marriage to Pat, will you be at last delving into your own Lowcountry writing?
CK: Well, I'd already begun to soften my stance on not writing about the Lowcountry, even before I started writing the memoir. My first was a contribution to the USC Press's State of the Heart book series, where I wrote an essay about what it was like to move to the Lowcountry.
JH: As Pat did with his foreword for the original State of the Heart, you set a high bar for the collection, so your piece is actually going to be the afterword to Volume 3.
CK: You mean I finally get the last word in something Pat started? Well, it only took twenty years.
JH: The memoir you're writing is also a cookbook (akin to Pat's own cookbook). Cooking was another passion you shared with Pat. What's a favorite memory of cooking for or with Pat?
CK: A bittersweet memory is the Great Santini's last birthday dinner, which Pat and I hosted in April 1998, almost one month to the day before Col. Conroy died. He was in the hospital and allowed to come home for the occasion, still in his hospital gown. The whole family was there, and everyone brought dishes. Pat had made a roast of lamb as the centerpiece, and I made three birthday cakes: a yellow cake with chocolate fudge icing, a strawberry layer cake, and my mama's pound cake. (The recipe's in Pat's cookbook, and it's the richest pound cake you've ever tasted.) The Great Santini wasn't able to eat anything, but seeing the huge spread and three birthday cakes obviously gave him great pleasure.
JH: He enjoyed the meal vicariously, and likely the company most of all.
CK: I think so. A fond memory I have of cooking for Pat involves my she-crab soup. He swore no one made it better, and I modestly agree with him. It's a recipe I've had for years, and my kids have always loved it, but when I first made it for Pat, he took it to a whole new level of sublimeness. I'd always used claw meat because it's cheaper, but Pat insisted on lump crab. I probably fixed it about once a month since he loved it so much, and I always made homemade bread to go with it. 

JH: With a group of friends and family, we've created the new Pat Conroy Literary Center as a living legacy to Pat that is quickly becoming a haven for writers and readers, offering educational and culturally enriching programs across genres and arts. What do you hope the Center will become?
CK: I want the Center to be just that—a haven for everyone who loves the written word as Pat did. I love the idea of a "haven," and its connotation of warmth and inclusiveness. The Center can be a place for meeting and sharing with likeminded writers and readers, which will make it beneficial to all of us. We'll be partnering with other organizations to offer our communities opportunities they might not have otherwise. And the Center has now welcomed more than a thousand guests through its doors since opening in October, so we're already been able to attract people to Beaufort as a growing site for new literary tourism, thanks to our many wonderful supporters.
JH: You've written a loving, heart-rending introduction to the new collection of Pat's recent nonfiction, A Lowcountry Heart. For you as a writer and as a reader, what's the book you think everyone with a Lowcountry heart should read?
CK: Any and every book by Pat Conroy, including A Lowcountry Heart. There are many wonderful Lowcountry writers with great books, but Pat's the master and I think he always will be.

For more information about the Pat Conroy Literary Center, and to read the complete version of this interview, please visit www.patconroyliterarycenter.org.
Cassandra King and Jonathan Haupt will give a talk at First Presbyterian Church Hilton Head on Wednesday, April 26th. Their subject will be "A Generous Lowcountry Heart: Building on the Legacy of Pat Conroy." The program is free and open to the public, beginning at 6:30 pm. Dinner will be served at 5:30 pm for a cost of $10. (Dinner reservations are required by 5 pm on Tuesday, April 25th. Call 843-681-3696.) First Presbyterian Church is located at 540 William Hilton Parkway. www.fpchhi.org