South Carolina native Bren McClain will be touring extensively with her debut novel, One Good Mama Bone, published by USC Press under its Story River Books imprint. The imprint was founded by Pat Conroy, and McClain's book was selected for publication by Conroy, himself, before his death last March.
The novel, due out of Valentine's Day, earned a starred Booklist review, among other praise, and is a Southern Independent Booksellers Alliance Okra Pick as well as The Pulpwood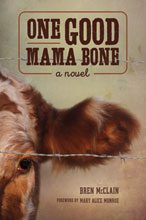 Queen Book Club Pick for May. Bestselling novelist Mary Alice Monroe called the novel "a tour de force."
Bren's 25-city book tour is called The Mama Bone Barnstorm Book Tour, and she'll travel in South Carolina, North Carolina, Tennessee, Georgia, Alabama, Louisiana, Kentucky, Pennsylvania, and California.
Bren will be reading and signing books on Friday, February 17th from noon – 3pm, at McIntosh Book Shoppe at 919 Bay Street, Beaufort. For more information, call 843-524-1119.