Charleston Salt and Iron, the latest book by Beaufort resident Wendy Nilsen Pollitzer, was released by Lydia Inglett Publishing / Starbooks at a debut event in Charleston on May 8 during Second Sunday on King Street. The book will debut in Beaufort at Saltus River Grill on Thursday, June 9 from 5 – 7pm.
For this lush, high-quality, coffee-table book, Pollitzer sought out a diverse group of Charleston's most beloved citizens, including business leaders, writers, artists and musicians and asked each of them, "What does Charleston mean to you?" Charleston Salt and Iron answers that question through a collection of photography and essays on the history, hospitality and grace of the South's crown jewel. The book captures the sentiments of a proud community and will be a commemorative heirloom of true Southern charm.
Charleston Salt and Iron features dynamic photography by Charleston's best photographers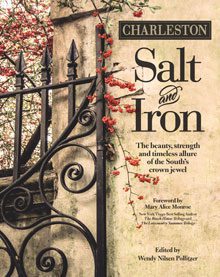 – and several from right here in Beaufort County – illustrating the beauty, history and allure of Charleston from the beaches and marshes to the historical downtown, providing a rich experience for locals and visitors alike.
Pollitzer, who moved to Beaufort from Mt. Pleasant 16 years ago, says, "Charleston is and always will be 'home' where I was born and raised; but Beaufort has become my home now, too, and I want to celebrate with everyone here who has helped me along this incredible journey of finding my niche. I couldn't have done these two books without so many inspiring people in this town. In fact, eight photographers from Beaufort/Bluffton are featured. Sandy Dimke shot the cover image, and inside you'll find Karen Peluso, Eric Horan, Elizabeth Sher, Kelley Luikey, Delk Haigler, Janet Garrity and Marge Agin. There images are all amazing!"
The book's foreword is written by Charleston area resident Mary Alice Monroe, New York Times Best Selling Author of The Beach House Trilogy and The Lowcountry Summer Trilogy. She writes:
"It is in the personal stories that we explore the poignant, heartwarming experiences that define life in the Holy City. The words of the locals sweep away the fairytale and reveal the true, every day human experience."
This is Wendy Nilsen Pollitzer's fourth book. Her third book South: What it means to be here in heart or in spirit, won the Gold Award from Independent Publishers for Best Regional Non-Fiction. She has contributed to many local and regional publications, including Lowcountry Weekly.
Lydia Inglett Publishing is a national award-winning publisher of beautiful, high quality coffee table books with an emphasis on the Southern experience today; Starbooks is the online bookstore and distribution subsidiary. Winner 2014 & 2015 Benjamin Franklin Award for excellence in publishing. Winner 2014 & 2015 USA Book Awards. Winner 2015 IPPY Best Regional Non-Fiction.
Join Wendy Nilsen Pollitzer and Lydia Inglett at Saltus River Grill on Thursday, June 9th, to celebrate Charleston Salt and Iron. For more information call 843-217-4683.