Save up your dimes and nickels – the fall book sale of the Friends of Beaufort County Library is coming up Sept. 19, 20 and 21 and there are bargains to be had.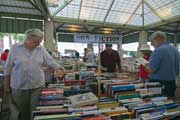 The sale, which is held in the Henry C. Chambers Waterfront Park, offers table after table of literary delights, from signed biographies to classical writings by some of the world's greatest writers.
A sample of this year's treasurers included things from a 1925 history of the Old Cheraw Indians of the Pee Dee to the Harvard Concordance of Shakespeare, copies of Ken Burns' "Illustrated History of Baseball" to a collection of Archibald Rutledge's outdoor essays.
"Every year we offer an eclectic mix of literary treasurers to our shoppers and this year will be no different," said Dave Peterson, head of the book sale's silent auction.
This year's sale offers a large collection of children's books as well as a number of volumes interested in military writing, according to sale organizers.
With more than 400 boxes of books donated by individuals throughout the year, the annual book sale is a major fundraiser sponsored by the Friends organization for the benefit of the Library.
"The community has been particularly generous this year and we plan to share that generosity with those who visit our sale," said chairman Geni Flowers. "Bring your checkbook and come on down."
The Friends also sponsor the popular "Books Sandwiched In" program during the months of January and February.
Sale hours are Friday, from noon until 6 p.m.; Saturday, 10 a.m. to 6 p.m.; Sunday, noon until 4 p.m.
A special preview sale open to Friends organization members only is Friday, 10 a.m. until noon.