The Arts Council of Beaufort County is offering hands-on art classes after school for kids who are nine to sixteen years old, starting this month. "Arts education deepens the presence of the arts," said JW Rone, the executive director of ACBC, who also shares his theater skills in the schools and now at ARTworks. To deepen the arts, this fall these four classes are offered, culminating in a Student Artist Showcase on Thursday, November 20th, at 5:30pm, family and friends invited.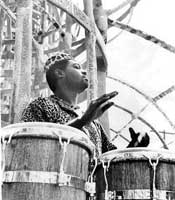 Basic Hand Drumming with Big Black, aka Daniel Ray
Ages 9-16, class begins Monday, September 29th
Recently inducted into the Jazz Hall of Fame, Mr. Ray will teach basic hand drumming rhythms. Instruments provided.
Acting Skills with JW Rone

Ages 11-16, class begins Wednesday, October 1
Mr. Rone has taught, performed, and directed theater on three continents. Basic acting skills will be taught though games, exercises, improvisation, and practical applications.
Handbuilding with Clay with Trevor Foster
Ages 12-16, class begins Thursday, October 2
Explore the basic techniques of creating clay with a master potter.


Building Stick Furniture with Hank Herring
Ages 9 to 16, class beings Thursday, October 2
Using natural materials and recycled items, artist Hank Herring helps kids build, expand, and use their imagination constructively.
Cost: $45 per 7 week session for each class, which meets once a week; family discounts and limited scholarships available.
To register: contact Colleen at 843-379-2787, visit www.beaufortcountyarts.com for details
Location: ARTworks is the home of the Arts Council of Beaufort County, at 2127 Boundary Street, in Beaufort Town Center. ARTworks is a community arts center where quality arts educators share their artform in an exciting family-friendly environment.
The Arts Council of Beaufort County works hard to ensure that arts educationó both acquiring art skills and learning through the artsó is valued. ACBC is a Kennedy Center Partner in Education, working closely with the Beaufort County School District and the Arts Center of Coastal Carolina to weave the arts into everyday life in Beaufort County.
"After school activities are one of the most important things a community can provide for a family," explained Rone, "A safe and positive opportunity to be engaged in learning activities. In terms of theater, these skills are important to youth because of the cooperative nature of the work. My Acting Skills class will be an addition to the theater education students might be getting in school. When doing big school productions, it's hard to spend time on individual technique training, so students won't always get direct skill instruction. That direct experience is what the ARTworks after school program provides."
Daniel Ray, who goes by Big Black, is the hand-drumming instructor at ARTworks (offering adult classes too!), and is being inducted into the Jazz Hall of Fame during the Savannah Jazz Festival this September.