Carol James Drolet will be signing copies of her new book, My White Cocoon, at Bay Street Trading Company on Saturday, September 20th from 1 – 3 pm at Bay Street Trading Company in downtown Beaufort.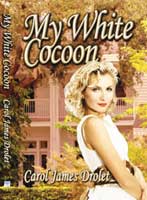 Drolet's poignant family saga comes alive in Charleston, South Carolina during the 1940's. The touching story of hardships and successes unravels through the roots and connections of the Duvall family. The main character, Catherine, is an innocent optimist who believes in the triumphs of good throughout the world. She falls in love and marries Carter Duvall, a gentle caring soul.
Carter struggles with demons from his childhood and increasingly becomes consumed with his past. He succumbs to alcohol to fight his anguish and his horrendous addiction subsequently brings shame and disgrace to all of the family.
Overcome with debt and despair, our heroin gathers the pieces to reassemble the lives of her cherished Duvall clan. Harrowing calamity, snarled emotions, and deep love intertwine to illustrate that no barrier is large enough to dissolve the devotion, unity and pride of her family.

Carol James Drolet was born and reared in beautiful Charleston, South Carolina where she acquired her deep love for children, family and the south. The marvels of the Lowcountry, the salt marshes, the grand live oak trees covered with their thread like masses of moss waving and the miraculous beaches are Carol's refuge.
She attended Charleston schools before attending Winthrop College and Charleston Southern University. She holds a BS degree in Early Childhood Education and Elementary Education. The Consortium for Entrepreneurship Education proudly certified her to teach entrepreneurship to her students. Her postgraduate studies have been through The Citadel and The University of Charleston.
Carol has had many years of teaching and administrative experience as well as the pleasure of being a Head Mistress, an after-school program Director, a public speaker, a teacher trainer and presenter for the Tri-County School Districts. She has passionately served on various child advocacy boards and task forces for the Metro Chamber of Commerce.
Upon retirement, Carol founded The Field Trip Company, Inc. of which she exclaims, "This endeavor was extremely rewarding because the teachers and I utilized the community and its resources as a 'School without Walls'. Thousands of students and teachers have relished in our adventures and explored places not available without The Field Trip Company, Inc."
She and her husband, Michael, have been married for forty-two years and have an adoring family. Carol beams as she describes their three handsome sons and beautiful daughter. Both of the Drolet's make it very clear that watching their eight grandchildren grow is shear splendor. Carol is thrilled to be a grandmother of such darling children who have inspired her to create children's stories to share with us.
"Early in my childhood people told me that I should write a book," Carol smiles. "Teaching creative writing to my young students sparked my imagination and longing to write but it wasn't until retirement that my opportunity came along."
Today, you will find Carol happily writing in her cozy library with a treasure of books surrounding her. Nestled beside her chair are Mazy, her precocious West Highland whit terrier, and the family cat of many years, Fields. Here is where My White Cocoon, Carol's first novel, was created.
For more information about the event, call 524-2000.