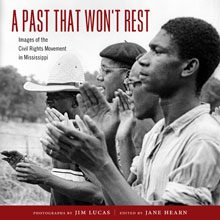 A Past That Won't Rest: Images of the Civil Rights Movement in Mississippi collects never-before-published photographs taken by Jim Lucas (1944-1980), an exceptional documentary photographer. His black and white images, taken during 1964 through 1968, depict events from the civil rights movement including the search for the missing civil rights workers in Neshoba County, the Meredith March Against Fear, Senator Robert F. Kennedy's visit to the Mississippi Delta, and more.
            Lucas had a gift for telling a visual story, an instinctive eye for framing his shots, and a keen human sensibility as a photojournalist. A college student in Jackson, Mississippi, in 1964, he was on his way to becoming a professional photojournalist when Freedom Summer exploded. Lucas found himself in the middle of events that would command the attention of the whole world. He cultivated his contacts and honed his craft behind the camera as a stringer for Time and Life magazines as well as the Associated Press. Lucas tragically lost his life in a car accident in 1980, but his photographs have survived and preserve a powerful visual legacy for Mississippi.
            Beaufort County resident Jane Hearn has edited this collection of over one hundred gorgeously sharp photographs and paired them with definitive essays by scholars of the events depicted, thereby adding insight and historical context to the book.
            Contributors include: Howard Ball, Peter Edelman, Aram Goudsouzian, Robert E. Luckett, Ellen B. Meacham, Stanley Nelson and Charles L. Overby.
            Hearn was among over sixty contemporary authors who recently gathered on the historic grounds of the Mississippi State Capitol for the Fourth Annual Mississippi Book Festival.
            This "literary lawn party" drew thousands and featured panel discussions including such authors as Jon Meacham, Rick Bragg, Charles Frazier and Salman Rushdie. Panel discussions were by C-SPAN.
            Jane Hearn participated in a panel discussion sponsored by the Mississippi Humanities Council and facilitated by Pam Junior, director of the Mississippi Civil Rights Museum. This panel focused on the civil rights movement's harsh realities in the state.   Panelists included: Eric Etheridege, Breach of Peace: Portraits of the 1961 Mississippi Freedom Riders, Stephanie Rolph, Resisting Equality: The Citizens' Council, 1954-1989, Brenda Travis, Mississippi's Exiled Daughter: How My Civil Rights Baptism Under Fire Shaped My Life and Lucas and Hearn's A Past That Won't Rest, Images of the Civil Rights Movement in Mississippi.
   Look for opportunities to meet Jane Hearn here in the Beaufort area featured in upcoming issues of Lowcountry Weekly.