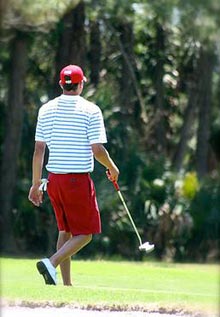 The Beaufort Charities Golf Tournament is getting older AND better.

Celebrating its 40th year, The Beaufort Charities is the oldest charitable golf tournament in the state of South Carolina and the premiere golf event in Northern Beaufort County.
Since their inaugural event in 1976, the organizers have raised over $800,000 for local need organizations, such as: Alzheimer's Support Group,Senior Services of Beaufort, Boys and Girls Club, Child Abuse Prevention (CAPA,) Citizens Opposed to Domestic Abuse (CODA), Friends of Carolina Hospice, Lowcountry Rotary, Veterans of Foreign Wars (VFW), Literacy Volunteers of the Lowcountry, and Habitat for Humanity.
The tournament started out at the Lady's Island Country Club, moving to its current location on Fripp Island in 1980. In 1989, the name was changed from "The Heart Fund" to "The Beaufort Charities," enabling the organizers to give 100% of the funds raised to local charities in Northern Beaufort County.
The presenting sponsor for the 2015 tournament is Jared S. Newman, Attorney at Law, and the Main Events Sponsor is Lee Distributors. Without these key sponsors, the event would not be able to address the various needs of our community with such a strong impact.
The organizers' goal each year is to improve the event for the enjoyment of the players, to offer value to the Sponsors, and to support our immediate community.
To that end, The Beaufort Charities will be building on the success of the 2014 Fridaynight gala event, in which they hosted almost 1,000 attendees, the largest crowd in The Beaufort Charities history. This year, they are pleased to have The East Coast Party Band as the Fridaynight entertainment. 
The gala will be held on Friday, May 15th from 9-12 pm at The Beach Club Tennis Courts. It is open to the public and tickets are $30/person or $50/couple. The ticket price includes entry into theFridaynight event with beer, wine, and cocktails as well as entrance into the on-course Daiquiri Hole #11 for both Friday and Saturday. 
"To say that we are proud to be the oldest non-profit golf tournament in Northern Beaufort County and in the state of South Carolina is an understatement," says Christian Sherbert, 2015 Tournament Director. "Our longevity and continued annual success is a testament to our volunteers, sponsors, our players and their families who all love the event.  They enjoy the golf, the beach and their time together."
Find out how to be a part of this special event at www.Beaufortcharities.org and go to the "EVENT TICKETS" page for instructions. Give back to your community . . . and have fun while you're doing it!