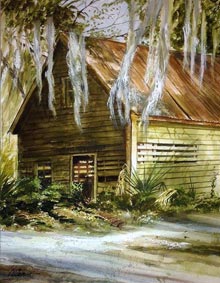 The Society of Bluffton Artists Gallery welcomes painter Bill Winn and clay artist Sheryl Winn as featured artists from July 6 through August 2. Bill's moody watercolors, spontaneous acrylics, pastels and drawings form a beautiful chorus with Sheryl's elegant, yet earthy hand-built ceramics and whimsical kinetic art.
"The Earth as We See It" is a collection of this husband and wife team's observations of the Lowcountry and the Southeast, which includes forests and marshes, small towns and big cities, and the people who live in the area. For this show, each of the artists studied many of the same scenes and interpreted them using their own medium.
            Bill's watercolors, pencil drawings and acrylic paintings depict vignettes of the land, sea, cities and people that he captures as a moment in time. His work portrays images of the landscape and structures that surround us which are often overlooked in the hectic pace of today's world. His art has been shown in galleries across the South. Bill is a practicing medical illustrator at the top of his field, which has an impact on his fine art, an outlet for real creativity and spontaneity that are a delight to the viewer.
            Sheryl's hand-constructed ceramics are reflective of the forests, shorelines, and towns of the Southeast and our Lowcountry. Her work often fuses natural elements with stoneware, creating dramatic and decorative, yet functional three-dimensional pieces. She also creates kinetic pieces that combine wire with clay for movement in her constructions. Sheryl has been a student of ceramics for many years, studying with numerous clay artists in Texas and Georgia, and has been influenced by Alexander Caulder, originator of the mobile. Her art is her passion and it reflects the joy she has in creating it.
            The Winn's considerable talents can be enjoyed together in "The Earth As We See It" with refreshments and the work of over 100 other member artists at the opening reception Friday, July 10 from 5 – 7 pm.
            The SOBA gallery is open from 10 until 5 pm Monday – Saturday and Sunday from 11:30 am – 3 pm, and is located at the corner of Church and Calhoun Streets in Bluffton.
            For more information visit sobagallery.com or call 843-757-6586.