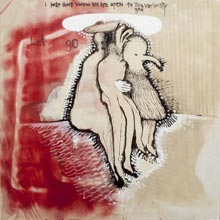 Paintings and Drawings by C. Steve Johnson
 at ARTworks
Local artist C. Steve Johnson, born and raised in Kansas City, MO, has produced a wide range of artwork in a variety of mediums for more than two decades. The focus of his new exhibition at ARTworks, called Open Vision, is a collection of drawings and paintings that explore how we see and think.
The images are mind maps that deal with context, things being in and out of balance, humor, absurdity, rhythm and time.
         Johnson is visual artist, poet and musician. He has taught writing, biology and visual art at the college level, and is currently the Career and Transfer Coordinator with Student Support Services at the Technical College of the Lowcountry. His artwork and performance pieces have shown nationally and internationally, including exhibitions in the Czech Republic, Chile, London and Brooklyn, NY where he lived for many years. Many of the artworks incorporate fractured words and phrases that leave the viewer to fill in their own meaning, or simply enjoy the pieces for their visual impact.      
         The public is invited to meet the artist at an opening reception on Friday, June 19th from 5:30 to 7:30 pm.
         ARTworks is located in Beaufort Town Center, 2127 Boundary Street, Suite 18A. For more information, visit www.beaufortcountyarts.com