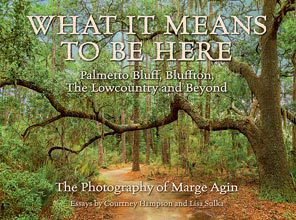 The community is invited to a celebration honoring the release of photographer Marge Agin's new photography book, "What It Means To Be Here: Palmetto Bluff, Bluffton, The Lowcountry and Beyond" on Thursday, June 18, from 5:30-8 pm at Palmetto Bluff.
Agin will sign copies of the book and contributing essayists Bluffton Mayor Lisa Sulka and Courtney Hampson, Director of Marketing, Palmetto Bluff, will read excerpts from the book.
            Marge Agin finds her inspiration in the Lowcountry and at Palmetto Bluff. Agin's third book, "What It Means To Be Here," features 207 inspiring photographs that capture the heartbeat of the area, as well as bonus aerial videos. Native Lowcountry resident and marine biologist Amber Kuehn wrote the text for the book. Bluffton, S.C., firefighter and photographer Jeff Kuehn contributed the aerial videos featured in this unique, interactive book.
            This free event is open to the public; tickets are limited and reservations are required. Reservations are available by emailing champson@crescentcommunities.com. Autographed copies of "What It Means to Be Here" will be available for purchase at the event and 40% of sales will be donated to the Palmetto Bluff Conservancy. Autographed copies of the book are also available for pre-order at www.starbooks.biz.