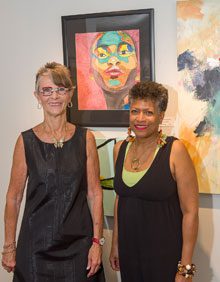 Gayle Miller, a watercolor artist and president of The Society of Bluffton Artists, and veteran jazz singer Jan Spencer are teaming up for a special art exhibition and concert at the gallery on the corner of Church and Calhoun Street in Old Town Bluffton.
            Miller's art exhibition will feature a collection of jazz, blues, and ragtime-inspired paintings from August 6 through September 2, with an opening art reception for Miller from 3-5 pm August 12 at the gallery.
            A special wine, art reception and concert featuring popular and original music performed by singer/songwriter Spencer is slated for August 19 at the Center for Creative Arts, the building next door to the gallery. The public is invited for wine and art at 2:30 pm and Spencer's performance at 3:15 pm in the Center for Creative Arts. Spencer's CDs will be on sale at the gallery during and after the events. Tickets are $25 and can be purchased at sobagallery.com. 
            "People will be seated theater style," Spencer said, adding, "Perhaps do a bit of dancing in the aisles, or just tapping their feet and smiling."
            When the artist and the singer met, there was an instant collaborative spark.
            Music has always been an inspiration for Miller. She began creating figurative paintings of musicians, instruments and dancers, their movement, color and flow. 
            "When I paint, I want the feeling of motion in the painting and of course music inspires the mind and the body to move, dance and sing," Miller said. 
            Spencer has been performing music with such greats as Dizzy Gillespie, the late Lou Rawls, Aretha Franklin, Bonnie Raitt and Tony Bennett in venues around the world for 20 years. 
            "I sing and play music that makes people smile, and laugh with the memories it brings and dance a little bit because they're happy as they listen," said Spencer. "Whether I'm singing blues, my original love songs or more contemplative, motivational songs, I see my purpose being to lift the spirits of my listeners and remind them that they are not alone."
About Gayle Miller
Gayle Miller's love of art started as an undergraduate at the University of Maryland. Her favorite classes were drawing and graphic arts. Her love of art eventually brought her to Apparel Arts of San Francisco, where she delved into clothing design and patterning. From there, Miller found another passion with watercolor painting. She took watercolor classes in California and Illinois, and she experienced plein air painting with Myna Wacknov in Brugge, Belgium. Over the years, she worked with talented teachers and with art organizations. She co-founded Inside Out: Accessible Art, a Co-Op Gallery in Bloomington, IL. Miller relocated to the Lowcountry in 2014, and has been an active leader in the arts community — including All About Art in Sun City Hilton Head, SoBA and the Art League of Hilton Head. Her work has won awards and was included in the Telfair Museum F3A Show. Her work can be found at SoBA, the Art League of Hilton Head, Diva Nail Salon near Sun City, Alexander's Restaurant on Hilton Head and the Landings Art Association in Savannah.
About Jan Spencer
Jan Spencer is a performing singer/songwriter and a veteran of stage, video and television performance.  For the past 20 years, she has sung in club and concert settings with jazz combos and solo at the piano.  She has also worked in Beaufort County Schools as an arts education consultant and artist-in-residence with student and professional groups.  Originally from Detroit and now based in the Lowcountry, she sings a wide variety of music – from the soulful sounds of Motown and the blues to the current song stylings of Nora Jones, Camille Baily-Rae and, at the piano, her original compositions.  Spencer and holds a BA in Education Psychology, a MEd in Creative Arts in Learning and is completing work on a Phd in Arts-Based Organizational Learning.
About The Society of Bluffton Artists
The Society of Bluffton Artists (SoBA) is the flourishing art hub in Bluffton's historic District at the corner of Church and Calhoun streets. SoBA offers regular art classes, featured artist shows, exhibitions and more. Please visit www.sobagallery.com for a complete calendar of events and other information or call 843-757-6586.

Above: Gayle Miller, from left, and Jan Spencer present "She's Music, She's Art," a special jazz concert and art exhibit in August at The Society of Bluffton Artists gallery.