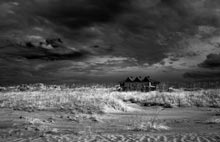 The Photography Club of Beaufort's semi-annual print competition was held Monday night. Three local artists served as judges for the club:  JW Rone, director of ARTWorks; Stuart Lathrop, IT director and visual artist; Bob Sofaly, photojournalist. They studied each of the forty entries, analyzing each for composition, technical quality and interest.  Often they rose from their seats and checked the focus or close up detail of the prints.  As the judges deliberated, club members were able to view the same images, submitted digitally on a projected screen.  As a learning tool, judges constructively commented on each image as the scores were tallied.
The top winners of the 2012 Spring Photo Competition for the Photography Club of Beaufort are
Expert:  Lamar Nix  –  "Three-Gabled Manse"
Advanced:  Phyllis Kaupp-Seas  "Cloud Cover"
Intermediate: Ellen Corbett  –  "Singin' the Blues"
3 way tie for Novice:   Charlotte Gonzales  – "Flower and Bee";   Tom Brady – "Dragonfly";  Patricia Powers – "In Flight"
Ellen Corbett's Singin'the Blues was also part of the club's American Music exhibit at the Beaufort Library in December and won the People's Choice Award.
The Photography Club also instituted a Best in Show ribbon, which was awarded to "Cloud Cover"
The club meets the Second Monday of every month at 7pm at ARTWorks on Boundary Street in Beaufort.  Please check out www.photoclubbeaufort.com for more information.