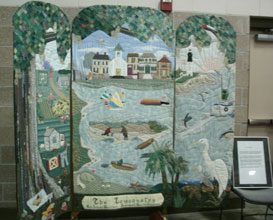 After many years of being packed away and brought out only every other year for the Sea Island Quilters biannual show, "The Lowcountry" quilt has a temporary home in Beaufort City Hall.
In 1995, a small committee of guild members gathered for a brainstorming session to imagine how a Beaufort quilt might look. They wanted to include the many islands, a live oak tree, and a variety of fauna and flora. Chairman Trudy Flanagan explains, "We made a list of everything we wanted in it. The quilt had to reflect the lifestyles, outdoors activities, and all cultures. We were not trying to make it historical or contemporary. We decided not to make it a realistic depiction."
Artist and quiltmaker Landi Todd-Duren took the list from the committee and sketched the triptych (meaning "three part") design with the large live oak anchoring the left side and spreading over all three sections of the quilt.
Depending on individual skill levels and expertise in stitching, various quilters went about creating specific sections of the quilt panels. The quilt traveled around from home to home as each quilter added her touch and interpretation to the project. Many were skeptical about the outcome because each quilter essentially "did her own thing." Miraculously, the stitched vignettes came together, and in 2000 – almost to the day it was conceived – "The Lowcountry" quilt was declared finished!
At the February 2000 meeting of the Quilters of South Carolina, the quilt won first place in the Group Quilts category.
So, fast forward to 2019. After a journey of almost 20 years, "The Lowcountry"quilt now hangs temporarily in Beaufort City Hall and can be viewed Monday through Friday from 8 am to 4 pm.