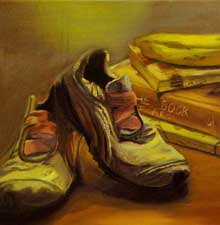 Some of the most outstanding artwork created by students at USCB will be on display at the 16th Annual Juried Student Exhibition April 29 through May 24 at the USCB Center for the Arts Gallery, 801 Carteret St.
Among those selected to display their artwork are: USCB students Emily Yaden, John Roberts, Kelsey Borden and Frances McNair, who recently won a highly competitive scholarship from the Portrait Society of America to attend the 2013 Annual Art of the Portrait Conference in Atlanta, Ga., later this month.
Deanna Bowdish, owner of "The Gallery" in Beaufort, will serve as the juror for the annual student exhibition. After graduating from the University of Minnesota with a Bachelor of Fine Arts degree, Bowdish worked as a professional artist in the Minneapolis metropolitan area for seven years. During that time, her work was featured in more than 16 shows and galleries. In 2004, she purchased "The Gallery" as a means of fulfilling a long-held dream to be a gallery owner. In so doing, she created one of Beaufort's most dynamic and eclectic art spaces.
Bowdish's work graces public and private art collections in America and abroad. She has earned
"honorable mentions" at Piccolo Spoleto in Charleston. In addition, her work has been featured for the last three years at the prestigious ArtPrize competition, the world's largest competitive art exhibition.
The opening reception for the exhibition will take place April 29 from 5:30 to 7 p.m. Awards will be presented at 6:15 p.m. Gallery hours for the exhibition are Monday through Friday from 9 a.m. to 5 p.m. The event is free and open to the public.
Centered on USCB's Historic Beaufort campus, the university's Studio Art program combines an intensive liberal arts background with studio arts proficiency and practical experience. The program prepares students for a professional career in the arts as well as graduate programs in fine arts.