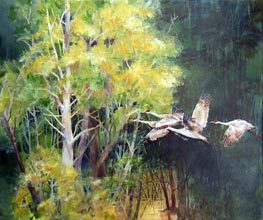 Watercolor Paintings by Pat Wilund at the SOBA Gallery
The Society of Bluffton Artists Gallery is pleased to welcome Pat Wilund as the featured artist August 3 through September 5. Pat will be exhibiting a body of new watercolor paintings she has named "To Pour or Not to Pour." In this work Pat experiments with traditional and non-traditional methods of painting the backgrounds for her subject matter.
In the "pouring" method Pat uses whimsical, sometimes flamboyant colors and shapes formed by a controlled serendipity. She manipulates puddles of color to suggest mood, shape and movement. In the "not to pour" method, Pat paints her subject matter and backgrounds in a textbook watercolorist manner, using traditional brushstrokes. The viewer interprets less, but spends more time analyzing detail, color layering and perfection of technique. Pat dares the viewer to make a decision on what methodology speaks to them – do you enjoy an artwork with more suggestion, or with less?
Pat has been practicing and showing her watercolors for the last 10 years in the Bluffton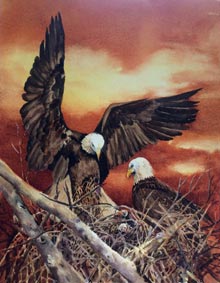 area. She is an active member of the Sun City All About Art club as well as the Society of Bluffton Artists. She frequently paints with and takes workshop classes under the tutelage of Mary Ann Putzier. Pat also enjoys assisting Putzier in teaching local school children art at SOBA's Center for Creative Arts. Always learning and experimenting, Pat studied pouring techniques under the purview of Savannah's Kathy Miller. Pat has won numerous awards for her work, recently taking First Place in Watercolor as well as the People's Choice Award in this year's Sun City Art Club's Spring Show.
Please join us on Friday, August 7 from 5 – 7 pm at the SOBA Gallery for a reception celebrating "To Pour or Not to Pour" and the work of over 100 other exhibiting artists. The SOBA gallery is open from 10 until 5 pm Monday – Saturday and Sunday from 11:30 am – 3 pm, and is located at the corner of Church and Calhoun Streets in Bluffton.
For more information visit sobagallery.com or call 843-757-6586.