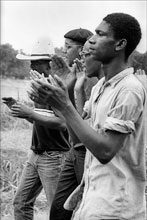 An exhibition of 50 historic photographs by documentary photographer Jim Lucas—A Past That Won't Rest: Images of the Civil Rights Movement in Mississippi—will be on display from February 26 – March 17 at USCB Center for the Arts Gallery. An opening reception and book signing will be held from 5:30 – 7:30 pm on Thursday, February 28.
A Past That Won't Rest: Images of the Civil Rights Movement in Mississippi is a collection of black and white photographs depicting iconic events of the Civil Rights Movement, taken by the late Jim Lucas between 1964 and 1968. These beautifully shot and meticulously restored images capture the courage and persistence of those who organized to overcome educational and economic oppression. The photos are a testament to the Ku Klux Klan's rampant violence and murderous attacks on African Americans, Jewish members of the community, and white people who dared to speak out against Jim Crow laws. In 1964, Lucas was a college student in Jackson, Mississippi and a young practicing photojournalist when Freedom Summer exploded. He found himself in the middle of events that would command the attention of the world. He had an instinctive eye for framing shots that visually told the story and he became a stringer for Time, Life (magazine), and the Associated Press.
Lucas lost his life in a car accident in 1980. His photographs were preserved and archived by Beaufort resident Jane Hearn, his wife at the time of his death. Jane met Jim several years after he shot the photos in this exhibit. 
"We met in 1973 when he was returning from his deployment to the Vietnam War," she says.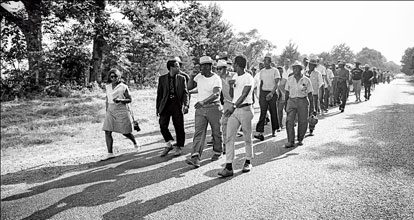 "He had been drafted in 1968 while still a college student. In the U.S. Army Signal Corps he shot non-combat motion picture footage of the Vietnam War. For his excellent work, Jim was awarded the 1969 Military News Film Motion Picture Photographer of the Year title by the Department of Defense.After his return to civilian life in Jackson, MS, he continued working in film. He shot news, sports, documentary, and commercial film footage before breaking into the motion picture industry." Lucas's film credits include Brubaker,TheBorder, The Long Riders, Escape from New York, and Honeysuckle Rose. It was in 1980, while on location for the Willie Nelson film Barbarosa, that he was killed in an automobile accident. In 2012, while planning a move from Mississippi to South Carolina, Jane Hearn began the massive project of finding a home for Jim's extensive collection of negatives, prints and ephemera. "I had kept the collection as he had stored it for over thirty years, but I felt the need to look at the images myself before I let them go. Many of the images are of high school and college life, sports, and friends, but peppered in were also newsworthy local events and images depicting historic civil rights events. Jim had always told me that there was history in his collection. I realized just how exceptional these images are and decided that it was fitting that Jim's work should be shown to a wider audience." 
The result is A Past That Won't Rest, the traveling exhibition, curated by Jane, that premiered at the 50th anniversary of Freedom Summer held by the Veterans of the Civil Rights Movement in Mississippi at Tougaloo College, Tougaloo, MS.  A Past That Won't Rest  then traveled to the National Civil Rights Museum in Memphis, TN and to the Brown v. Board of Education Historic Site in Topeka, KS, and is now heading to USCB Center for the Arts.
In 2018, a book by the same name was published by the University Press of Mississippi and accompanies the exhibit with more than fifty additional photographs, as well as scholarly essays that frame the history and context of the civil rights era. Copies of the book will be available at the opening reception and are also for purchase at Nevermore Books, 702 Craven Street, Beaufort, SC (www.nevermorebooks.com) or through the University Press of Mississippi (www.upress.state.ms.us).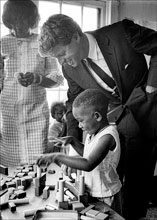 Jane Hearn is pleased to be bringing this exhibit to her new town. "Part of the charm of Beaufort is its history and the emphasis on historical events," she says. "I am just learning about the civil rights movement in SC as are many people like me who are relatively new to this area. It is my hope that these images from Mississippi might be not only a resource for general knowledge about the Civil Rights Movement, but also a catalyst to further conversations toward progress and understanding."
Beaufort seems a fitting location to exhibit A Past That Won't Rest– after all, we're the site of the new National Monument to the Reconstruction Era – and Jane thinks the time is right, too. 
"The events depicted in the exhibit are a reminder of those who fought for the right to vote, for equal justice and educational opportunities and to end economic oppression and poverty," she says. "Those challenges are still with us today, front and center; in fact much of that progress is in the process of being undermined."    
For additional information, contact Jane Hearn at: jimlucasphotographs@gmail.com or USCB Center for the Arts at 843-521-4145.