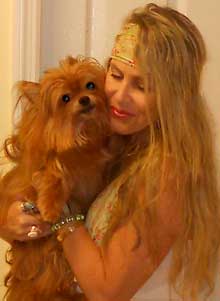 The Society of Bluffton Artists presents "Faces," featuring the mixed media work of exploratory artist, Dawn Gaye Duff. This show will be on display from May 6 through June 2.
Dawn Gaye Duff is a self-described enigma. "I am different," she says. "Many have told me so, and I believe it. I'm a Bible-carrying Bohemian, always attempting to satisfy the wanderlust in my mind and soul. I'm an American flag-waving hippie chick, a punk-rock conservative with libertarian leanings. A Jesus-follower and a free spirit, an artist, a poet. A devoted wife and mom who has a penchant for artistic freedom in all I do. I believe it is never too late to begin life… again. I am completely into beginnings."
Dawn Gaye's story is inspirational: she has recently "come out of the closet" as a disabled artist. Due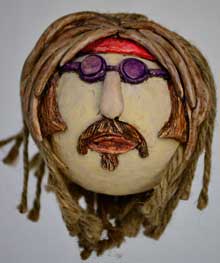 to neuro-muscular issues resulting from spinal cord surgery, she works at a slow pace. Some days she can barely work at all, and pain is a constant. She took up clay as a healing therapy. She began to paint with oils and water media, and to make mosaic art and jewelry. She taught herself and discovered she has a gift for teaching others as well, leading art and arts-related classes for all ages in the Bluffton/Hilton Head/Beaufort area for over 12 years. Immersing herself in the local art scene, Dawn Gaye has done art residencies at the area's public schools, taught classes at private schools, joined art co-ops and art organizations, and participated in shows – including a one-woman show on Hilton Head Island. Her work has been collected internationally. Dawn Gaye and her husband, J. Howard, opened "Each Others Muse," their working studio, and formed "JD Creative Ministries," a Non-Profit Arts Outreach Organization. Her list of many accomplishments include being Vice President of the Arts Council of Southern Beaufort County, Education Committee Hilton Head Art League, and Liaison for Heritage Academy-Chamber of Commerce Art Committee.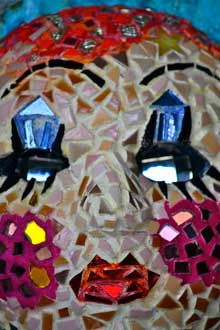 Dawn Gaye loves to combine pieces into unusual and unique collages or assemblages. Besides creating for meaning and expression, she applies those techniques to create functional and wearable art. Dawn has been called an "Exploratory Artist," and is honored by that description. She paints in oils and watercolor in a myriad of styles, and does her best to keep up with demand for her poignant and original work. She designs one-of-a-kind pieces from jewelry to wall hangings and installations. Her pieces include hand-painted silk, clay, mosaic, fiber, concrete, paint, and re-purposed vintage and found objects. Many of her pieces have been described as having an ancient or historical feel. Dawn is well known for her spiritual artwork. "Prayer Bowls" are her signature pieces, combining the written word with form and texture.
About her currently featured work "Faces" at the SOBA Gallery in Bluffton, Dawn says "I love the human face, with all it's expression and emotion written into each line and pore. I love the way a face can change at a moment's notice, a slight raise of the brow or curl of the lip saying volumes without uttering a word. I love it that our faces were created in His image, and I look forward to gazing upon glorified faces at the end of time."
Dawn Gaye Duff's unique and varied work is not to be missed – please join us at a reception to meet her from 3 – 5 pm, on Mother's Day, Sunday May 12, at the SOBA Gallery. Enjoy the art, refreshments, and music by the Calhoun Street Band. In honor of Mother's Day, all moms will receive a small gift made by the artist!
The gallery is located at the corner of Church and Calhoun Streets in Old Town Bluffton. Call 757-6586 or visit sobagallery.com for more information.