Art League of Hilton Head presents Sharing the Spotlight, Paintings by Nancy Vineburgh & Joan Moreau McKeever this May at Art League Gallery. Both artists are from Connecticut and now live in Belfair, but each traveled entirely different roads to becoming artists. This show will encompass their shared love for the Lowcountry, along with paintings that divulge to the viewer the different times and places that they each hold dear. 
Nancy Vineburgh was born in New Haven, CT. She received a BA in Art History from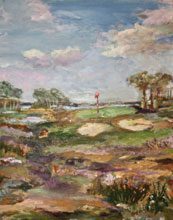 Connecticut College, studied art at the University of Grenoble in France, and received the Dora Brahms Fellowship while attending Columbia University School of Architecture's Historic Preservation Program. Nancy began painting in 2014, after retiring from the Center of the Study of Traumatic Stress in Bethesda, MD where her work helped military families cope with the effects of war. "In hindsight, beginning to paint was probably my way of creating a private space of beauty and solitude following a stressful and intense 12-year work experience," states Nancy.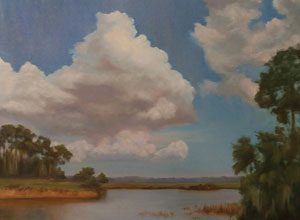 Joan Moreau McKeever, also a Connecticut native, attended Vancouver School of Art, the University of Alaska, and later the American Academy of Dramatic Arts in New York. Joan's interest in art stemmed from her uncle, Ted Davies, a renowned woodcut artist and her high school teacher, Richard Montross. Professionally, Joan has worked in advertising and design for most of her career. Joan, as Marketing
and Creative Director for the Wright Companies, earned more awards than any other real estate firm in Connecticut. Travels to Maui, and an eventual move to the Lowcountry reignited Joan's interest in painting. 
You must see this exhibition of two locals sharing the spotlight and combining their world experiences into one. Sharing the Spotlight, Paintings by Nancy Vineburgh & Joan Moreau McKeever will be on exhibition at Art League Gallery, May 1 – 26, 2018. An opening reception will be held on Wednesday, May 9, from 5-7pm. Art Demonstrations: Saturdays, May 5 and May 12, from 12 noon to 2pm
Art League Gallery located mid-island inside Arts Center of Coastal Carolina, 14 Shelter Cove Lane, Hilton Head Island, 843-681-5060.