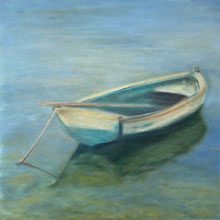 Beaufort Art Association (BAA) Gallery is featuring 'LowCountry Light & Color' by Kim Painter from April 29 to June 30. The artist's reception will be at the Gallery located at 913 Bay Street in Beaufort on Friday, May 4, from 5:30 – 7:30 pm.
Kim comments on her painting style saying, "In nature light creates the color, and in painting, color creates the light. My medium of choice is oil. Thin layers of color along with glazing techniques work together to help create the color radiance and luminosity in painting."
"My landscape work is considered semi-abstract and leans toward Impressionism. My current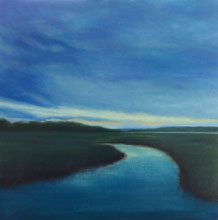 focus is to use light and atmosphere to express a range of emotion I see and feel in these southern coastal lands. I'm influenced by the beauty in everyday atmospheric conditions; twilight and dusk, misty rain and sweltering heat. My goal is to convey and invoke a sense of wonder and tranquility for the viewer."
"I began loving and appreciating art at an early age," Kim says. "I adored spending time exploring nature and spent most of my childhood in South Carolina and just over the border in rural North Carolina surroundings. Our family vacations involved beaches, sculpture gardens and similar glimpses into magical Southern places where I could play and dream the day away."
Kim studied graphic design in college and worked in different aspects of corporate America for almost thirty years. She considers herself a self-taught emerging artist, entering her next life phase with joy and gratitude for the LowCountry landscape she calls home.
Besides Kim's work, the work of approximately 60 other local BAA member artists will also be on exhibit. Chartered in 1957, BAA is a tax-exempt membership organization with total membership of approximately currently175 local artists. To find out more, go to www.beaufortartassociation.com, or call (843-521-4444.